Cali, Colombia —(Map)
People in Colombia have been protesting against the government for nearly three weeks. The government's response has been violent, and dozens of people have died. There are no signs that the protests will end anytime soon.
The protests first began on April 28, in response to a new tax law suggested by the country's president Iván Duque. The new law would have added taxes on many everyday items.
Though the government needs to raise more money, many people were angry that the law seemed to tax everyone except rich people. The law upset people because life in Colombia is already very unequal – a few people are very, very rich, but many, many people are extremely poor.
Groups representing workers organized protests against the tax law in cities across the country. But it wasn't just workers who protested. Lots of people came out because they were upset with the government's handling of the Covid-19 pandemic.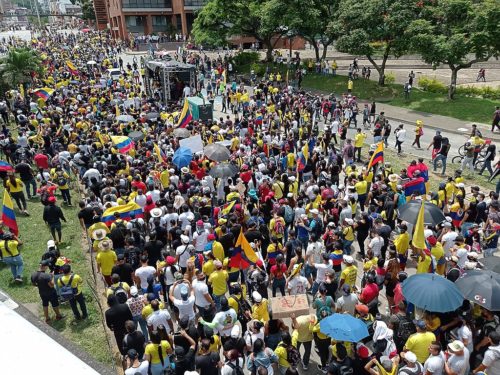 Many students also turned out to protest, upset because there aren't better opportunities for the future. Currently, about 42.5% of Colombia's people are poor, and 16% of adults can't find jobs.
The government's response to the protests was fast and strong. Police used tear gas, rubber bullets, and devices called flash bangs, which cause small explosions. In many cases, police attacked the protesters violently. Several protesters were killed, dozens were hurt, and hundreds were arrested.
After four days, Mr. Duque dropped the idea of the tax law, but the protests continued. By that time, many people were protesting over the way police responded.
Until 2016, Colombia was fighting a war inside its own borders. Its police departments are still set up to fight heavily armed enemies. Many people think Colombia's police have been treating the protesters like enemies.
The government has complained about some of the damage done by protesters, but hasn't made many comments about the violence by police. In recent weeks, police have opened fire on protesters with real bullets. At least 47 protesters have been killed.
Because of the recent war, there are a still a large number of guns in Colombia. Recently some groups of protesters have been shot at by attackers who weren't wearing uniforms. In some cases, people have shot at the police.
Mr. Duque has met with protest leaders more than once, but no agreements were reached. The police violence has caused the protests to grow stronger.
Now, students and young people are the ones leading the protests. They are worried about their futures, but many say they no longer fear the violent reaction of the police.
In some places, protesters have been blocking roads and highways. In Cali, where much of the worst violence has happened, there are shortages of some food items because trucks carrying food from other areas haven't been able to enter the city. There are also long lines for gasoline.
Groups from around the world have called for peace in Colombia. Several groups have offered to try to help the different sides reach a peaceful solution. Most people expect that the protests and the violence will continue.