Canakkale, Turkey —(Map)
On March 18, Turkish President Tayyip Erdogan opened a huge bridge that sets a new record for the world's longest suspension bridge. The "1915 Canakkale Bridge" crosses Turkey's Dardanelles Strait, linking Europe and Asia.
The country of Turkey is mainly in Asia. But part of it extends into Europe. The Dardanelles Strait is a thin band of water that separates the two parts.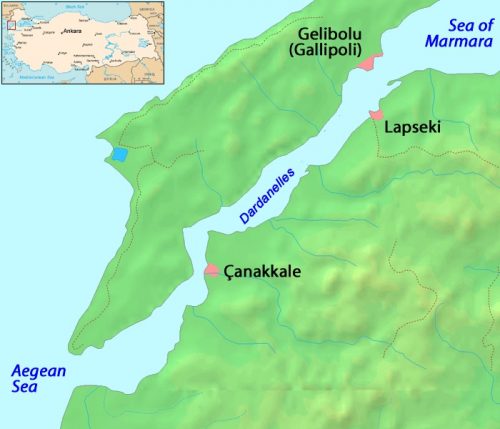 The new bridge allows people to drive across the Dardanelles Strait in about six minutes. Before the bridge, the fastest way to cross the Strait was by boat. The trip was about an hour, but waiting to get on and off the boat could take hours longer.
The new bridge is a suspension bridge, which means that its middle section hangs between its two supports without any other supports underneath. Before this, the suspension bridge with the longest middle section was the Akashi Kaikyo Bridge, which connects two islands in Japan. The central section of the new bridge is just over two kilometers (1.25 miles) long – about 105 feet (32 meters) longer than the previous record.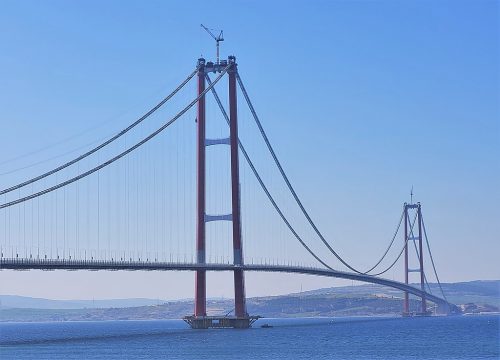 The bridge is called the "1915 Canakkale Bridge". It's meant as a reminder of a big World War I struggle in the Dardanelles Strait in 1915. Over eight months, Turkey defeated an attack by navy ships from England and France trying to land soldiers in Gallipoli – now called Gelibolu.
The bridge, which runs from Gelibolu to Lapseki, was built by Turkish and South Korean companies working together. South Korea's prime minister, Kim Boo-kyum, was at the opening of the bridge. Mr. Kim said, "The 1915 Canakkale Bridge will leave this history of…conflict behind and will be a bridge between East and West, starting a new era [period] of peace."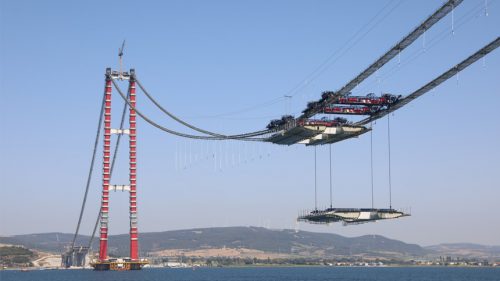 Building the bridge wasn't easy. It took five years and cost about $2.7 billion. But Turkey expects that the bridge will save as much as $458 million every year because trips crossing the Dardanelles Strait will be using far less fuel and polluting much less. Crossing the bridge will cost about $13.60.
The bridge is just one of the many large building projects that Mr. Erdogan and his AK Party have tackled since coming to power 20 years ago. These projects include a bridge and tunnels, as well as a new airport in Istanbul. Mr. Erdogan also built a $600 million palace for Turkey's president (currently Mr. Erdogan), which has earned him lots of criticism.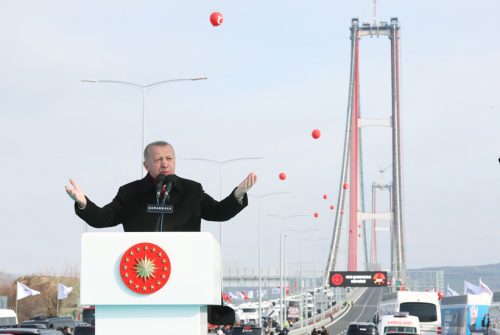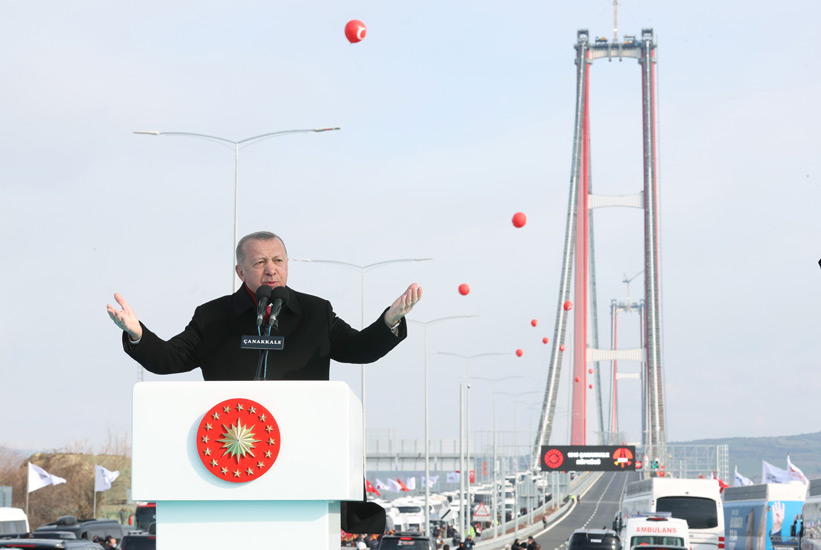 Mr. Erdogan may be hoping that the bridge will help him with voters. Turkey will hold elections in 2023. Since early 2021, Mr. Erdogan's popularity has dropped sharply.
Special Numbers
The new bridge contains several special numbers. Its towers are 318 meters (348 yards) high and the bridge opened on March 18 (3/18). Those numbers mark the day that Turkey normally honors soldiers killed during the Gallipoli battles.
And the bridge's largest section isn't just two kilometers long, it's 2,023 meters (2,212 yards). Next year, 2023, will mark 100 years since Turkey became the country it is today – the Republic of Turkey.
😕
This map has not been loaded because of your cookie choices. To view the content, you can accept 'Non-necessary' cookies.