Prices are rising around the world. In some places, like Sri Lanka and Peru, the difficult challenges of everyday life have led to strong protests. Today, NFK looks at the situation in these two countries.
Prices Rising Worldwide
Around the world, prices for food and fuel have climbed to record levels. Food supplies were already low because of extreme weather, the pandemic, and supply chain problems. With Russia's invasion of Ukraine, the situation got much worse. Russia and Ukraine supply much of the world's wheat and corn, as well as the fertilizers used by farmers. Fuel prices have also shot up worldwide as a result of Russia's war on Ukraine.
😕
This image has not been loaded because of your cookie choices. To view the content, you can accept 'Non-necessary' cookies.
Protests Against the President in Sri Lanka
Since mid-March, people in Sri Lanka have been protesting against the country's president, Gotabaya Rajapaksa. People are upset about many things, including shortages of medicines and basic foods like rice. There are massively long lines for fuel, and often pumps are empty. Because of fuel shortages, some power companies are only supplying electricity for 11 hours a day.
Sri Lanka
Sri Lanka is an island nation in south Asia. It's in the Indian Ocean, about 80 miles (130 kilometers) from the southern tip of India.
The country's money troubles aren't all because of Mr. Rajapaksa. Sri Lanka's businesses depend heavily on tourists. A 2019 terrorist attack and the coronavirus pandemic have nearly ruined the country's tourism business.
Still, Mr. Rajapaksa is accused of managing the country poorly. For years, Mr. Rajapaksa and his family have run the country. Some of Mr. Rajapaksa's family members have grown rich from government work.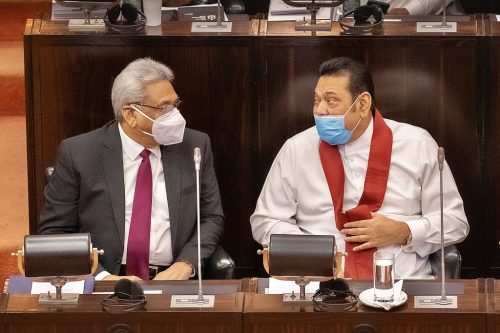 The country owes a lot of money. Mr. Rajapaksa's government has made several decisions that make it nearly impossible for Sri Lanka to repay the money it owes. As a result, Sri Lanka can't afford to bring much-needed supplies to the island. Sri Lanka's government says it needs $3 billion, just to keep going for the next six months.
Large numbers of people have been protesting in front of Mr. Rajapaksa's office and his homes. Mr. Rajapaksa declared a public emergency and blocked social media sites in an effort to end the protests. Security forces cracked down violently on the protests. Last week, Sri Lanka's entire Cabinet, except Mr. Rajapaksa and his brother, the prime minister, stepped down.
😕
This image has not been loaded because of your cookie choices. To view the content, you can accept 'Non-necessary' cookies.
None of this has ended the protests. People familiar with Sri Lanka say that nothing quite like these protests has happened in the country before. The protesters are from many different backgrounds, but all are extremely upset, and unlikely to stop protesting until Mr. Rajapaksa steps down.
Peru's Protests Over High Prices and Hard Times
Large and violent protests have rocked areas across Peru. Shortages, and high prices for food, fuel, and fertilizers have triggered intense protests against President Pedro Castillo.
Mr. Castillo is an ex-teacher who was only elected eight months ago. He has had great difficulty leading the country. In the short time he's been president, Mr. Castillo has been impeached twice and has had four different Cabinets.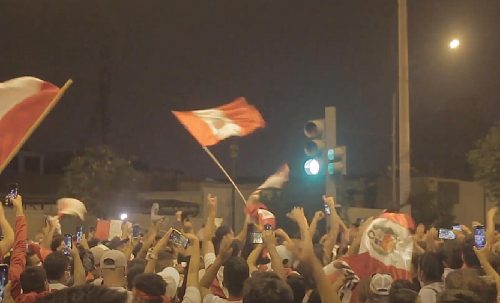 Though Mr. Castillo isn't skilled as a politician, much of the country's anger is over price increases caused by Russia's war on Ukraine.
In response to the protests, Mr. Castillo announced a curfew in the country's capital, Lima. But the curfew made protesters even angrier, and it was soon lifted. Mr. Castillo has made moves to calm the protesters, including raising the country's minimum wage by 10% and lowering taxes on fuel.
😕
This image has not been loaded because of your cookie choices. To view the content, you can accept 'Non-necessary' cookies.
But many people believe that Mr. Castillo simply isn't able to lead Peru in this difficult time, and should step down.
As prices continue to rise, protests like those in Sri Lanka and Peru are likely to become more common. That's especially true in poorer countries which already owe a lot of money.