This article is an update to the story: Women in India Create Human Chain 385 Miles Long.
In the early morning of January 2, two women entered Sabarimala temple and prayed. Since news of their visit came out, the Indian state of Kerala has been nearly shut down by protests.
In the past, the holy Hindu temple has not allowed women between the ages of 10 and 50 to visit. In September, India's highest court said that women must be allowed in. But since the court's ruling, protesters have blocked all women who tried to enter.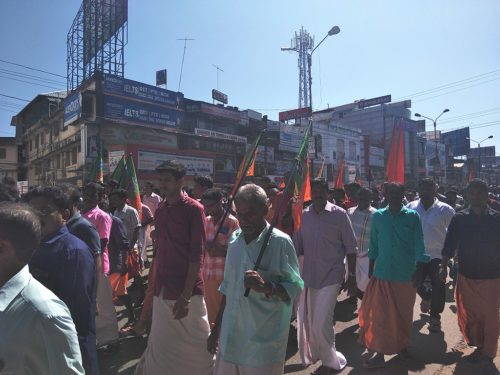 On Wednesday, two women in their 40s entered the temple through a side entrance. Police in plain clothes came with them to make sure they were safe.
After the news of the women's visit came out, violent protests began in Kerala. So far 266 people have been arrested, 15 people have been hurt, and one person has been killed. To keep people safe, many businesses and schools in Kerala have been closed.
The temple was also closed for a time so that religious leaders could clean it and make it "pure" again after the women's visit.