Mendi, Papua New Guinea —(Map)
Thousands of people in Papua New Guinea need help after last Monday's earthquake. The earthquake killed over 50 people. But many more people are in danger now because they need food, water, and other supplies.
Papua New Guinea (PNG) is an island nation north of Australia. About 7 million people live there. It is not a rich country. Much of the money in the country comes from selling its gas and gold to other countries. But many of the people there (about 40%) live in farming villages which support themselves without buying or selling things.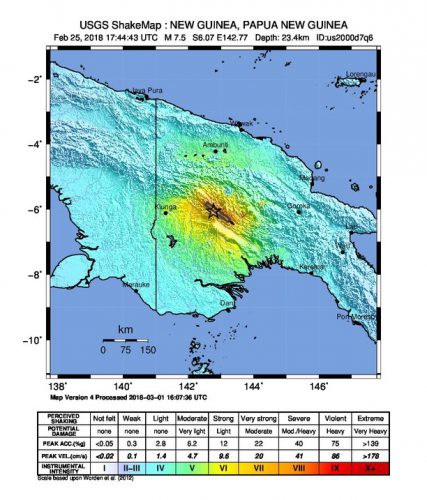 On Monday, February 26, PNG was hit by a 7.5 magnitude earthquake . Magnitude means how big or strong something is. An earthquake that is 7.5 is very strong. This earthquake broke apart some buildings, and made other buildings sink into the ground. Some areas where people lived were completely covered. The earthquake also destroyed roads, blocked rivers, and took out the electricity for many people on the island.
Some people were killed and lots of people were hurt right away. But it took a while to understand that the earthquake caused bigger problems. The earthquake hit hardest in a far away area called the highlands. There are mountains there, and it is hard to travel. So it was hard to know what happened there.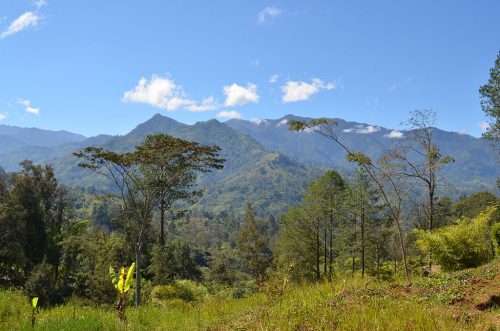 Because of the earthquake, most roads into the mountains cannot be used anymore. This makes it hard to get help to the people who live there. The Red Cross is one group that is helping people in PNG. Udaya Regmi, of the Red Cross, told the news company Reuters, "Big trucks cannot go there. It's one of the reasons the food is becoming less and less."
Landslides are another problem caused by the earthquake. Landslides happen when areas of land move. Usually this means that lots of dirt and rocks fall downhill because of gravity. The landslides in PNG were huge. They blocked some rivers, which means that some people don't have water anymore. They also covered some places where people lived.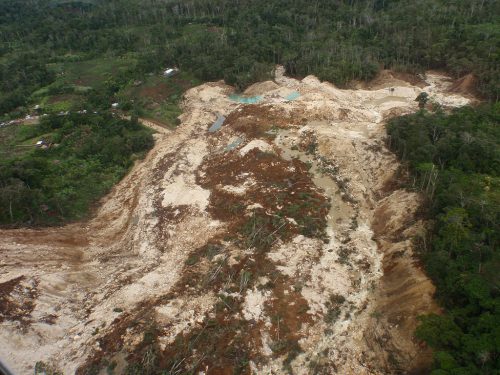 The PNG government has called this a "state-of-emergency". This means it is serious and will let the government use money to work on the problem. The Red Cross and other groups are working to get food, water, and other help to the people who need it. Australia and some oil companies have also given money to help.
The ground in PNG has been shaking for much of the last week. The country has been hit by several smaller earthquakes. When small earthquakes hit after a large one, they are called "aftershocks". The aftershocks seem to be slowing down now. PNG is in an area called the "Ring of Fire". This is a large area in Asia where earthquakes and volcanoes are common.
😕
This map has not been loaded because of your cookie choices. To view the content, you can accept 'Non-necessary' cookies.