New Delhi, India —(Map)
New Delhi, India has the worst air pollution in the world. The last two winters have been worse than ever. This year, people in Delhi are hoping things will be better.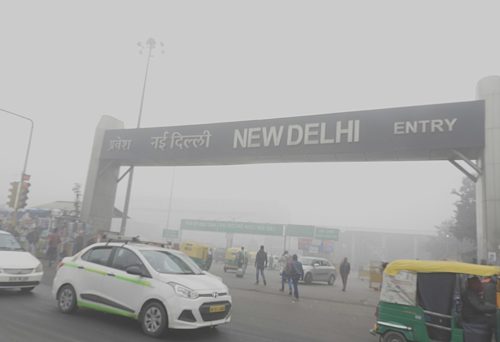 How bad is the air? The US Air Quality Index (AQI) is one way to measure air pollution. It goes from 0 to 500. Zero is "Good", 150 is "Unhealthy", and from 300 to 500 is "Hazardous" (dangerous). At its worst last year, the air in New Delhi measured 1010. One report said that breathing the air in New Delhi during the worst periods was about the same as smoking 50 cigarettes a day.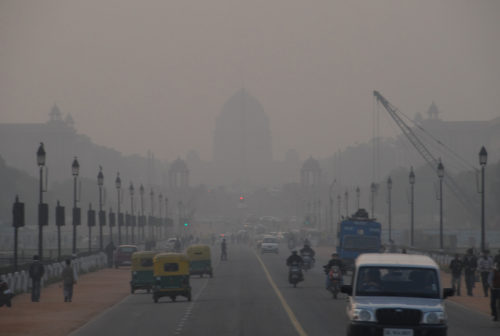 The air pollution, often called "smog", holds dangerous chemicals as well as billions of tiny "particles" – tiny bits of dust and pollution. The particles can be smaller than 1/30 of the width of a human hair. They go deep into the lungs and cause many different sicknesses, such as coughs, headaches, sore throats, asthma, and even cancer. India's air pollution causes the deaths of around 500,000 people every year.
The problems are worse in winter, when the winds slow down and the colder air sinks closer to the ground, bringing the smog down with it.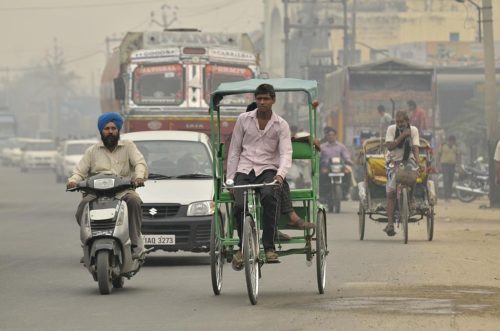 Like many big cities, New Delhi and its 19 million people suffer from polluting factories and heavy traffic. These problems are made worse when people mix cleaner gas, which costs more, with cheaper, dirtier fuels in order to save money.
New Delhi also gets lots of pollution from nearby farms. At the end of the rice-growing season, most farmers clear their land by burning the straw covering their fields. For farmers, this is much easier than other ways of clearing the land. But these fires create huge amounts of smoke, which wind up collecting in cities like New Delhi.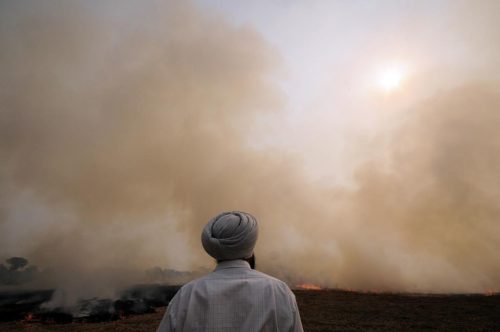 Small fires, used by poorer people to cook and to keep themselves warm, are another source of air pollution. These fires are often made with things that don't burn cleanly, including garbage.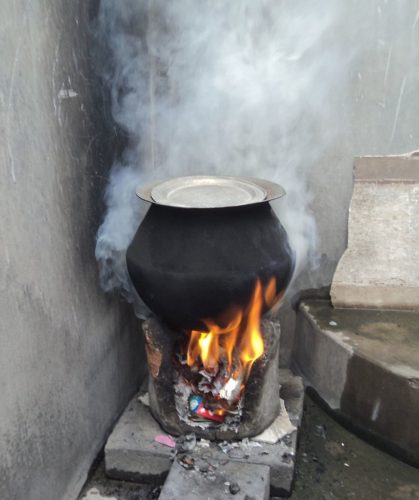 One reason things might be better this year is that on Monday, an old coal-burning power station from 1973 was finally shut down. This station made just a small part of New Delhi's electricity, but created more pollution than all of the city's other sources of electricity.
The government is also working to convince farmers to stop clearing their farms by burning. They've offered to help farmers buy machines that can clear the land. It is too early to know how many farmers might change what they do, but fewer farmers are burning their fields every year.
But even if things are better this year, they still won't be very good. The AQI in New Delhi is already in the unhealthy range.
.@bryanadams on Instagram: "New Delhi, India ?? you we're incredible tonight. In this photo, if you look carefully you can see my shadow silhouetted in the dust and smoke of the venue over the audience. I've never seen that before." https://t.co/UZu2uQy8eR pic.twitter.com/8Tm2GpJaIo

— Newley Purnell (@newley) October 16, 2018
On Sunday, pop singer Bryan Adams posted a picture on the Internet. The picture was taken during a concert he gave near New Delhi. In the picture, Mr. Adams's shadow floated in the sky. But the "screen" that Mr. Adams's shadow appeared on was simply New Delhi's thick smog.
😕
This map has not been loaded because of your cookie choices. To view the content, you can accept 'Non-necessary' cookies.