Mars —
December has been a busy month in space and especially busy on Mars. Here's a look at recent news from the red planet.
Mars Express Shows Ice-Filled Crater
In 2003, the European Space Agency (ESA) sent one of its spacecraft to another planet for the first time. Almost exactly fifteen years ago, on December 25, 2003, the Mars Express began to orbit (go around) Mars. Since that time it has been taking pictures and measurements and sending information back to Earth.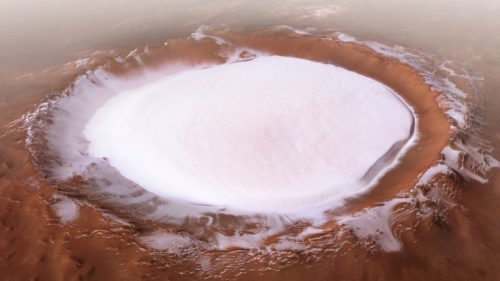 On December 20, the ESA shared pictures that Mars Express had taken of a huge crater on the surface of Mars. A crater is a large bowl-shaped hole in the ground. The Korolev crater on Mars is 51 miles (82 kilometers) wide. What makes the crater even more special is that it is full of ice. Scientists believe the ice is about 1.1 miles (1.8 kilometers) deep in the center of the crater.
Scientists used Mars Express to make another interesting discovery in July of this year. They found liquid water underneath layers of ice and dust at the planet's south pole.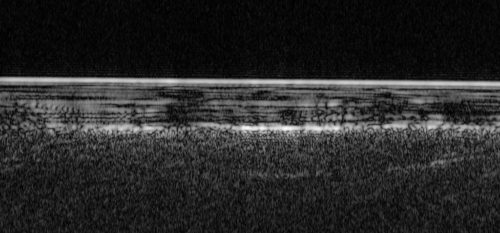 There is ice in several places on Mars, and there is water vapor (like steam). But on the surface of Mars, there is no liquid water. That's because of the lower pressure on Mars, which causes ice made from water to turn straight into a vapor, without ever becoming liquid, like it does on Earth. Scientists thought there might be liquid water under the surface of Mars. Mars Express was able to prove this by using radar to find liquid water buried under the ice and dust.
InSight Selfies, Sounds, and Seismometers
NASA's InSight lander landed safely on Mars on November 26. Since that time, the InSight has been slowly testing itself and learning about the area around it. NASA is very happy that it has landed in an area without rocks, hills, or holes. That will make it much easier for the InSight to do the work it was sent to Mars to do. The InSight was recently able to use its robotic arm to take a selfie.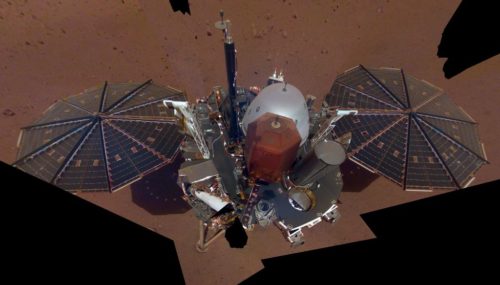 More Mars news came from NASA's InSight in an unusual way. The InSight has a seismometer that will be used to measure "marsquakes" (earthquakes on Mars). In early December, even before the seismometer was placed on the ground, it was already noticing when things vibrated.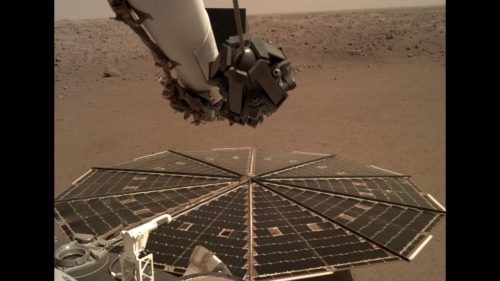 The InSight's solar panels have been vibrating as the Mars wind blows over them. The InSight's seismometer recorded those vibrations so that they can be heard. When played at normal speed, the sounds are very low. NASA speeded them up to make the sounds easier for humans to hear. Here is what the speeded up "Martian wind" sounds like.
That was in early December. On Wednesday, December 19, the InSight lander used its robotic arm to place the seismometer onto the surface of Mars. NASA will spend a few weeks adjusting the seismometer, but they hope to begin getting good information from it soon.