Myanmar Violence, Protests Continue Two Months After Coup
For over two months, people in Myanmar have been protesting a military coup that took place on February 1. The military has cracked down more and more violently on these protests, sometimes shooting directly at the protesters. At least 580 people have been killed.
During the coup, the military arrested the country's leader, Aung San Suu Kyi, and members of her political party. The military seemed to be worried that Ms. Suu Kyi's popularity would weaken their power.
Now the military are fighting a country-wide protest movement that won't go away. Over 2,750 people have been held by the military because of the protests. Now the military is targeting famous people who have supported the protests.
In spite of the military's extremely violent methods, the protest movement remains strong. Large groups of workers are striking in protest, making it hard for many businesses to stay open.
In recent weeks, the protests have taken unusual forms, such as painting Easter eggs with messages against the coup. On Thursday, protesters left flowers inside empty pairs of shoes at protest spots to remember those who have been killed.
Protests are happening outside the country, too. Many countries have punished Myanmar's military with sanctions and several international companies have stopped their operations in Myanmar.
Greenland's Election Brings Opposition Party to Power
An early election in Greenland has brought the opposition political party Community of the People (CP) to power. The party won 37% of the vote. The political party Forward, which has led the country since 1979, earned just 29% of the vote. Greenland belongs to Denmark, but has its own government.
The early election was brought about by disagreements over mining. Greenland has large amounts of "rare earth metals", such as uranium and neodymium. These metals are in great demand for many high tech products from cell phones to wind turbines to electric cars.
Forward was in favor of a big rare earth mining project, saying the money would help the country. CP opposed the mine, saying Greenland should focus on the environment. Currently the ice sheet covering Greenland is melting rapidly because of global warming.
CP now has 12 of the 31 seats on Greenland's national assembly. To form a coalition government, it will need to work with other parties.
Endangered Right Whales Have Most Babies Since 2015
North Atlantic right whales are endangered. So it's very good news that this year, more young right whales were born than any time since 2015.
Between December and March, 17 right whale calves were spotted swimming with their mothers. That's as many calves as were spotted in the last three years put together. The year 2018 was especially bad, since no calves were born that year.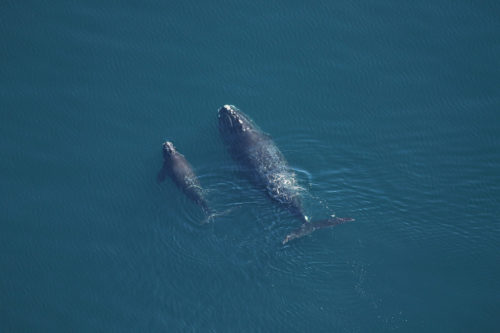 Scientists hope that the higher number of calves is part of a pattern of more whale births every year. Currently there are only about 360 North Atlantic right whales in all.
Scientists worry that the whales may be dying out faster than new whales are being born, largely because of boats. One calf has already died this year after being hit by a boat.
*Right Whale Photo Credit: Clearwater Marine Aquarium Research Institute & USACE taken under NOAA permit #20556-01