Huntington Beach, California —(Map)
Crews in southern California are working to contain one of the area's largest oil spills in recent years. The spill, which began on Friday, has killed fish and birds, damaged protected areas, and covered nearby beaches with tar.
Around 126,000 gallons (477,000 liters) of oil have spilled into the Pacific Ocean off the coast of Orange county. The oil spill covers about 13 square miles (34 square kilometers) of ocean. The oil is washing up on beaches as oil and sticky clumps of tar.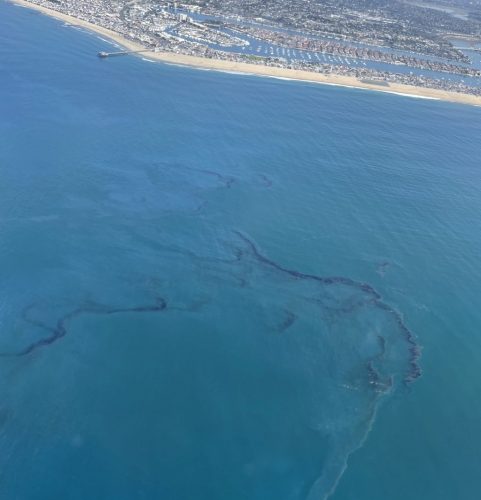 The US Coast Guard is leading efforts to place floating barriers called "booms" on the water to try to keep the spill from spreading. So far, over a mile (1.6 kilometers) of booms have been laid out, and about 3,150 gallons (11,900 liters) of oil have been removed from the sea.
To find the leak, divers explored underwater. They found a break in a 17.5-mile (28-kilometer) pipeline that delivers oil from an oil platform a few miles off the California coast. Experts say the leak could have been caused by a ship's anchor, or possibly an earthquake.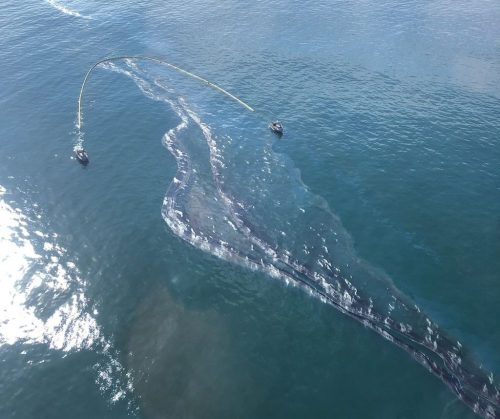 Amplify Energy Corp. is the oil company that owns the pipeline. It shut down the pipeline on Saturday, but experts say the company should have noticed a change in the pipeline's pressure much sooner. The leaking pipeline is over 40 years old, even though such pipelines are normally only used for about 25 years.
Martyn Willsher, who leads Amplify, believes the leak has been stopped. "There is no active leak that we're aware of," he said.
Some local people have complained that even though the spill began on Friday night, little action was taken to contain it until Saturday afternoon. Some visitors to nearby beaches report that there is tar "everywhere".
Now beaches in the area have been closed, and fishing has been banned in a wide area along the coast. People are being asked to stay away from the beaches, since the oil can be toxic if touched or if its vapors are breathed in.
Extra efforts are being made to keep the oil away from marshy areas along the coast, which are home to many special birds. At least one of these areas, Talbert Marsh, has already been affected.
Oil spills are very dangerous for wildlife. Workers are quickly trying to help animals that may have been hurt in the spill. It's still not known exactly how many animals have been affected. But there are reports of dead fish and birds washing up on shore, and of dolphins swimming through the oily waters.
The area has had several spills in the past. In 1990, an oil tanker spilled nearly 417,000 gallons (1.6 million liters) of oil. That spill killed many fish and thousands of birds. In 2015, a leaking pipeline near Santa Barbara spilled 143,000 gallons (541,300 liters) of oil into the sea.
The spill has led to calls for an end to offshore drilling. Californian Democratic Representative Ted Lieu said, "My view is that…we need to shut down all offshore drilling because it's too dangerous."