Several countries have gotten new leaders in the last week. Today, NFK looks at new leaders in the Czech Republic, Sweden, and Honduras.
Petr Fiala Is the Czech Republic's New Prime Minister
On Sunday, the president of the Czech Republic, Milos Zeman, appointed Petr Fiala as the country's new prime minister. Mr. Fiala leads a group of opposition parties which won the country's election in early October. The win forced Prime Minister Andrej Babis to resign.
The process of appointing the new prime minister was thrown in doubt after Mr. Zeman, 77, was put in the hospital with a serious medical problem soon after the election. Appointing the prime minister is one of the jobs of the Czech president. When Mr. Zeman's condition improved, the appointment was scheduled for November 26. Mr. Zeman was released from the hospital on November 25. But later the same day, he learned he had Covid-19.
After a two-day delay, the ceremony was finally held. In order to avoid spreading the coronavirus, Mr. Zeman took part in the event by speaking through a microphone from inside a clear plastic box.
Sweden's First Female Leader Is Elected – Again
Last Wednesday, Magdalena Andersson was named Sweden's first female prime minister. But she didn't get to enjoy it long. Political differences in a deeply divided Parliament broke up Ms. Andersson's coalition government after about seven hours, and Ms. Andersson resigned.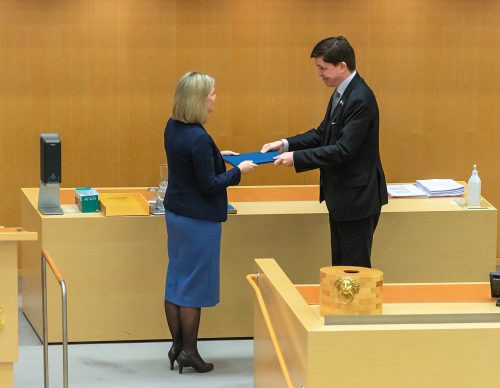 On Monday, Ms. Andersson was elected prime minister once more, this time leading a single-party government. Under Sweden's rules, Ms. Andersson only needed to make sure that less than half of Parliament voted against her. In the end, it was close – and Ms. Andersson was only two votes away from being rejected.
Leading a single-party government won't be easy. Ms. Andersson's Social Democrats party only has 100 of the 349 seats in Parliament. That means her party will have to work closely with other parties to pass new laws. Ms. Andersson officially took office on Tuesday after meeting with Sweden's King Carl XVI Gustav.
Honduras Elects Its First Female President
Opposition candidate Xiomara Castro won Sunday's election in Honduras, easily defeating Nasry Asfura of the National party. The results will make Ms. Castro the first female president of Honduras.
Though all the votes have still not been reported, Ms. Castro is currently leading with about 53% of the vote, compared to 34% for Mr. Asfura. On Tuesday, the National party admitted that Ms. Castro had won the election.
The National party has ruled Honduras for 12 years. During that time there have been many complaints about increasing corruption in the government. There are also great concerns in the country about the power of people who sell illegal drugs. Many people expect current president Juan Orlando Hernandez to be charged with drug-related crimes soon after he leaves office.
Ms. Castro has promised change, saying, "There will be no more abuse of power in this country." Still, drugs, crime, corruption, and a lack of jobs will make Ms. Castro's job a difficult one. Ms. Castro's husband, Manuel Zelaya, is expected to play an important part in the new government. Mr. Zelaya used to be the president of Honduras, but he was forced out in a military coup in 2009.
(Front page image sources: Petr Fiala : Občanská demokratická strana [CC BY-SA 4.0], Magdalena Andersson: Frankie Fouganthin [CC BY-SA 4.0],Xiomara Castro: Irn [CC BY-SA 3.0], all via Wikimedia Commons.)