Yaoundé, Cameroon —(Map)
Over the last month, Africa's best national soccer (football) teams have met in the continent's biggest tournament, the Africa Cup of Nations (AFCON). On Sunday, Senegal won the contest for the first time, defeating Egypt 4-2 on penalties.
The tournament was held this year in Yaoundé, Cameroon. This was the contest's 33rd year, and from the beginning, it faced a number of challenges. The biggest challenge was the coronavirus pandemic, which caused the tournament to be delayed for a year.
Later, the contest organizers faced pressure from European football teams. There are dozens of African players on European teams, which weren't eager to let their stars take time off.
For people across Africa, the tournament is a time of great excitement and pride. Teams from 24 different African countries competed in the tournament. But the contest is followed closely even in countries that don't make it into the tournament.
Egyptian player Mohamed Salah said that if he won the AFCON trophy, it would be "completely different" to other prizes he's won. He said, if he won it, "It would be the closest one to my heart."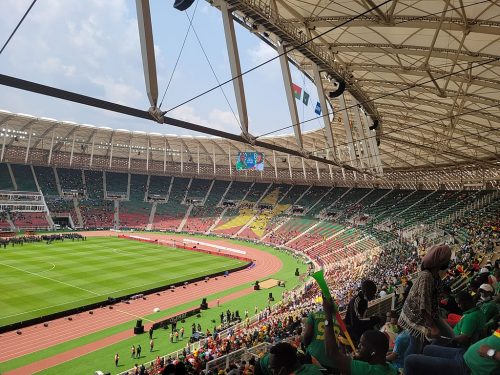 The match between Senegal and Egypt was one that many people looked forward to. It promised a tough contest between two world-famous players – Egypt's Salah, and Senegal's Salio Mané. (When they're not playing for their national teams, both men play for Liverpool Football Club in England.)
Egypt has won the tournament seven times in the past. Senegal had reached the finals twice, but had never won.
It turned out to be a tense game that remained tied 0-0 despite the best efforts of both teams. Mané missed a penalty shot four minutes into the game. Both sides created chances to score, but couldn't quite get the ball into the goal. All through the second half and into extra time, the score stayed stuck at 0-0.
That sent the game into a penalty shootout, with the teams taking turns shooting five penalties each. After each team had shot four penalties, Senegal led 3-2. When Mané booted in the final goal, making it 4-2, the game was won.
The win was especially sweet for Senegal coach Aliou Cissé. Twenty years ago, he played for Senegal in the AFCON finals and lost after missing a penalty kick.
The win is a huge one for Senegal. After the win, Senegal president Macky Sall declared Monday a national holiday. Huge crowds turned out in Senegal's capital, Dakar, and other places around the country to celebrate.
---
Did You Know…?
The 2022 Africa Women Cup of Nations will be held this July in Morocco.