Yoon Suk-Yeol Elected President of South Korea
Yoon Suk-yeol has been elected president of South Korea. He defeated Lee Jae-myung in South Korea's closest election ever. Mr. Yoon took 48.6% of the vote, while Mr. Lee won 47.8%.
Mr. Yoon, 61, represents the People Power Party. He's not well-known in politics. He's best known for his work as a lawyer, investigating politicians accused of corruption.
Mr. Yoon will take office in May. He's expected to be a strong supporter of the United States. He's also expected to take a tougher stand with North Korea, which has tested many threatening missiles recently. Current President Moon Jae-in worked hard to bring South Korea and North Korea closer. In the end, his efforts didn't pay off.
The election was one of the most negative ever in South Korea. Some people believed that the winner was likely to try to put the loser in jail. Now both men say it's time to work together. Unless they work together, Mr. Yoon may have trouble getting things done. Mr. Lee's Democratic Party controls 60% of Parliament.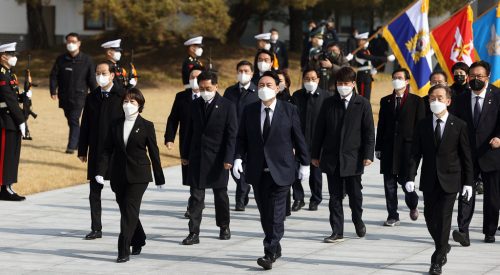 The election result was disappointing for many women. Mr. Yoon has suggested that men and women in South Korea are treated equally. Many people disagree strongly with that idea. Mr. Yoon said that if he became president, he would get rid of the government agency that works to promote equality for women.
Australia Struggles With More Rain and Flooding
On Wednesday, Australian Prime Minister Scott Morrison declared an emergency over the terrible flooding along Australia's east coast. Declaring an emergency makes it easier to help those affected. At least 20 people have died in the floods, which have caused over $1.5 billion (US) in damage.
The heavy rains which triggered the floods have been going on for over two weeks. Sydney has had more rain so far this year than ever before. Though some parts of the east coast are beginning to clean up after the flooding, others are still getting more rain. Around 60,000 people have been ordered to leave their homes.
"We are dealing with a different climate to the one we were dealing with before," Mr. Morrison said. "Australia is getting harder to live in because of these disasters."
Mr. Morrison has been criticized for not taking the climate crisis seriously enough. That could cause problems for him in Australia's upcoming national election.
Cities Change Street Names to Pressure Russia
As Russia's war on Ukraine continues, cities in several countries are renaming streets in honor of Ukraine and its people. And they are choosing streets where Russia has its embassies.
In Lithuania's capital, Vilnius, the street leading to the Russian Embassy has been renamed "Ukrainian Heroes Street". The mayor warned that people in the embassy might not get their mail if they don't use the correct address.
In Latvia, Russia's embassy in Riga is now on "Ukraine Independence Street". In Tirana, the capital of Albania, the section of the street where the Russian Embassy is located will be renamed "Free Ukraine". The area in front of the Russian Embassy in Oslo, Norway, has been renamed "Ukraine Square".
The name changes won't stop the war, but they do show a strong sign of support for Ukraine.