Gaziantep, Turkey —(Map)
Early Monday morning, a powerful earthquake struck southern Turkey* and northern Syria. The earthquake has destroyed thousands of buildings, killed more than 3,700 people, and left thousands more injured.
The quake, which struck in Turkey near its border with Syria, was the strongest earthquake to hit Turkey in over 80 years. It was strong enough to be felt in other countries, including Cyprus and Egypt.
The USGS (US Geological Survey) reported that the earthquake had a magnitude of 7.8. That's extremely powerful. Since then, the area has been hit by over 130 aftershocks.
Aftershocks are normally smaller quakes that follow a large earthquake. But in this case, many of the aftershocks have also been extremely strong. One had a magnitude of 7.5.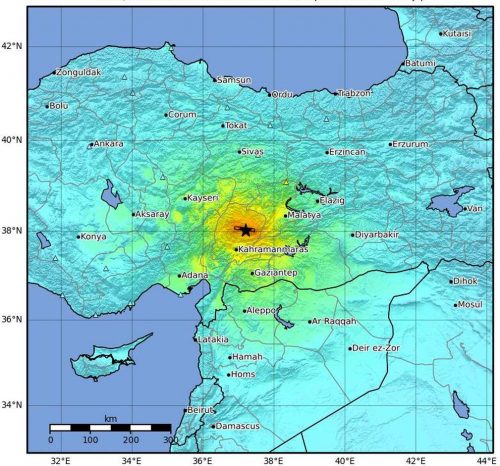 The earthquake and its aftershocks have damaged or destroyed large numbers of buildings in several cities in Turkey. The Turkish government reported that by late Monday, over 2,800 buildings had collapsed.
The crumbling buildings have led to huge numbers of deaths and injuries. Turkey's government says at least 2,300 people have been killed and over 13,000 are injured. Those numbers are expected to rise as rescue workers continue to look for people who have survived.
The earthquake was also felt in the northern part of Syria, where the situation is made more complicated by a civil war that's been going on since 2011.
Syria's government says that over 700 people have died in government-controlled areas of the country. The White Helmets, a rescue group in rebel-held areas of Syria, say more than 730 people have died in those areas.
😕
This image has not been loaded because of your cookie choices. To view the content, you can accept 'Non-necessary' cookies.
Thousands of rescue workers are now trying to find and save people who may be trapped in the rubble. Turkey says it has sent out more than 9,600 rescue workers.
Many countries are also sending teams of rescue workers and supplies to the area to help out. Turkish President Recep Tayyip Erdogan said that leaders of over 40 different countries had offered help.
But rescue workers are facing many challenges. The earthquake and its aftershocks have damaged roads. Turkey's government has asked people to keep the roads clear for rescue workers. But even so, many roads are jammed with people trying to get away from aftershocks in the affected areas.
The weather is also causing problems. Before the earthquake, the area was preparing for a heavy snow storm. Now, snow and rain are making rescue efforts more difficult.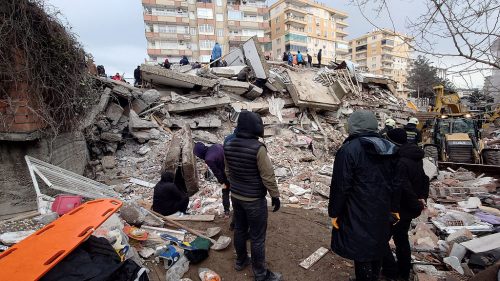 The weather is also creating harsh conditions for those who have lost their homes. In Turkey, many mosques have opened to act as shelters for people who have lost their homes.
In northwest Syria, things are even more challenging. At least four hospitals in the area were damaged by the earthquake.
Many of the people there already lived in tents or in special camps for people who lost their homes in the war. More than half of the 4.6 million people who live in the area have trouble getting enough food.
Because of the war, it will be difficult to get help to those in this part of Syria who need it.
* Turkey has officially changed its name to Tûrkiye. This article uses the old name, Turkey, since that is more familiar to readers.
😕
This map has not been loaded because of your cookie choices. To view the content, you can accept 'Non-necessary' cookies.