Paris, France —(Map)
On Monday, people across France turned out to protest against the government of President Emmanuel Macron. The protests were part of a larger May Day celebration, but the focus was on the government's decision to raise the country's retirement age.
The protests were organized by France's main labor unions. The unions are upset about the government's recent changes to the country's pension system. The changes raise the age at which people can retire from 62 to 64.
In many countries, May 1 is a holiday meant to celebrate workers and workers' rights. Yesterday, it also marked France's largest protest in more than ten years. Over 780,000 people took part in around 300 protests nationwide.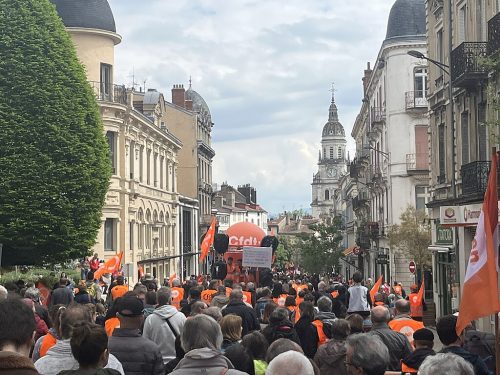 Most of the protests were peaceful, with tens of thousands of people marching in cities across the country. The largest protest was in the capital, Paris, where over 112,000 people joined in.
But there was also some violence between protesters and police. Some protesters threw rocks and burning bottles of gas (petrol) at police. Police responded by firing tear gas.
The anger of workers in France has been building for months. Monday marked the 13th time since January that workers have held nationwide strikes or protests. Sophie Binet, leader of France's second-largest labor union, says, "…the anger has never been so strong in the country."
Unions and their workers are extremely upset with President Emmanuel Macron for raising the age at which French workers can retire. They are especially upset about the way he did it.
In France, retired workers collect a pension from the government. Mr. Macron says the retirement age had to be raised or the government wouldn't have enough money to pay for the pensions. But raising the retirement age is very unpopular with voters.
It's also not very popular with members of Parliament. Mr. Macron was worried that his plan wouldn't be approved by Parliament, so he used a special rule to push the changes through on his own. Mr. Macron's actions were allowed by France's constitution, and the pension change has now become law.
But Mr. Macron's actions created lots of anger. The unions say the changes hurt workers who had been planning to retire. Workers are upset that Mr. Macron didn't ask Parliament and didn't listen to the people.
Some protesters are hoping Parliament will pass a new law to change the retirement age back to 62. Others hope to create a referendum about the retirement age, so that France's people can vote on the question. It's not clear that either effort will be successful.
Mr. Macron has no plans to change the pension law. Instead, he is trying to focus on keeping other promises that he has made. The government seems to be hoping that workers will calm down soon.
But many protesters say they'll keep protesting until the government listens. Antoine Bristielle leads a group that runs opinion polls. He says, "Macron is trying to move forward no matter what, but people are standing still."