Lopburi Overrun by Macaque Monkeys
The city of Lopburi,Thailand has had large numbers of macaque monkeys roaming the streets for as long as people can remember. In the past, the monkeys have brought money into the city. That's because tourists visit the city just to see the macaques running wild.
But the coronavirus has changed all of that. Tourists didn't just bring in money, they also brought bananas to feed the macaques. Lots of them.
Now, with no tourists, the macaques have been going hungry. They are forming gangs, having huge fights over food, and stealing things from stores. One group of macaques has taken over a movie theater and is using it as a base. Many people are now staying in their homes, scared to go out.
😕
This image has not been loaded because of your cookie choices. To view the content, you can accept 'Non-necessary' cookies.
The city says that the number of macaques is now 6,000 – twice as many as there were just three years ago. The government is starting a program to prevent the macaques from having more babies, but some people wonder if it is already too late.
Barcelona Opera House Gives Concert for 2,292 Plants
Last Monday, Barcelona's Liceu opera house reopened for the first time since mid-March. A string quartet played a a piece called Chrysanthemums (Crisantemi), by Giacomo Puccini, to a full house.
But the audience was a little unusual – all 2,292 seats were filled with potted plants. Any human who wanted to watch the concert had to stream it over the internet.
😕
This image has not been loaded because of your cookie choices. To view the content, you can accept 'Non-necessary' cookies.
An artist named Eugenio Ampudia came up with the idea for the concert. Mr. Ampudia said that during the coronavirus lockdown, he felt closer to nature. He enjoyed the fact that humans could only watch as nature came back to fill many places where humans had taken over.
The concert was meant to build on that idea, and get people to think about their connection with nature.
The event was also a way to thank Spain's health care workers. The plants were donated by local garden centers. After the concert, the plants will be given to health care workers in Barcelona to thank them for their efforts during Spain's struggle against the virus.
Smelly Durians Empty Post Office, Sending 6 to Hospital
A strong smell coming from a package at a post office in Schweinfurt, Germany last Saturday caused big problems. Police and firefighters were called in. Sixty people were cleared from the building. Twelve post office workers were treated for illness, and six of them were taken to the hospital.
But when police finally opened the problem package, they didn't find dangerous chemicals or a toxic gas. They found four durians – fruits that some people find to be delicious and others think are absolutely gross.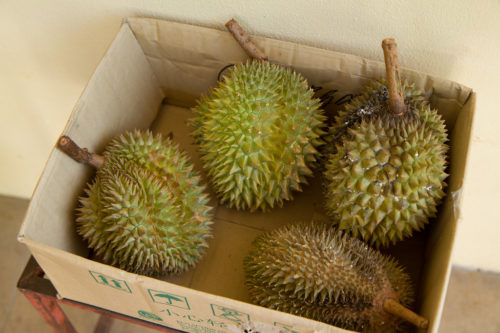 Durians are so popular in Asia that they're sometimes called the "King of Fruits". Those who like durians love the taste – creamy and nutty and unlike anything else.
But many people think durians smell like poop. Others think they smell like vomit or skunks. Because of the strong smell, it's against the law to bring durians into hotels, subways, and airports in some countries in Southeast Asia.
The post office is now reported to have delivered the package containing the durians.