Northern Madagascar —(Map)
Scientists have discovered a tiny chameleon from Madagascar that may be the world's smallest reptile. The chameleon is small enough to easily sit on a fingertip. Only two have ever been spotted – one male and one female.
Reptiles are egg-laying animals with backbones, and include animals like snakes, lizards, and crocodiles. Reptiles are cold-blooded, which means their bodies have the same temperature as the area around them.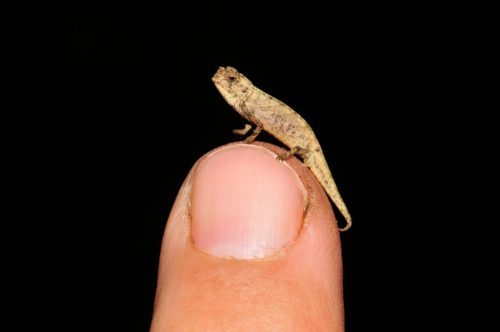 The new species (kind) of chameleon was discovered in the rainforests of Madagascar by a team of scientists from Germany and Madagascar. The tiny animals are being called "nano-chameleons" (very small chameleons), and are officially known as Brookesia nana, or B. nana.
The rainforests on the island nation of Madagascar are home to many animals not found anywhere else.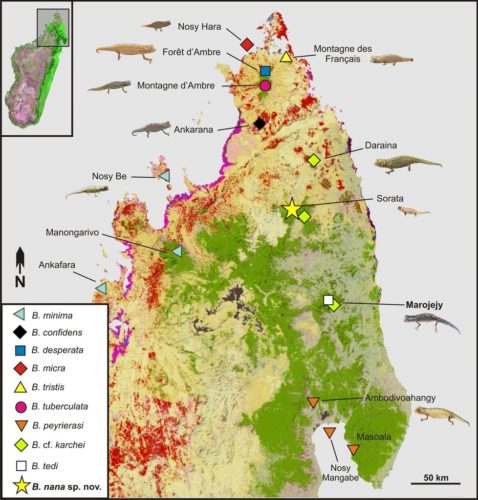 Before the B. nana, the world's smallest known reptile was another chameleon from Madagascar called the Brookesia micra. These chameleons grow to be about 2.9 centimeters (1.14 inches long).
The female example of B. nana was about the same size. But the male nano-chameleon that the scientists found was much tinier – 2.2 centimeters (0.87 inches) from head to tail.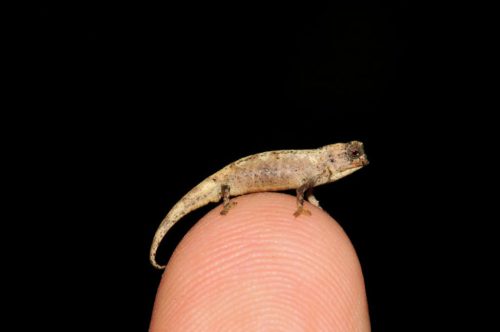 This is unusual for chameleons, where usually the male is larger. But the scientists believe that Brookesia nana is so small that the female may need to be larger in order to carry eggs.
Unlike some other chameleons, B. nana doesn't have the ability to change its colors greatly. But the skin of the nano-chameleons is a mixture of brown colors which blends in well with the leaves and grasses on the forest floor where they live.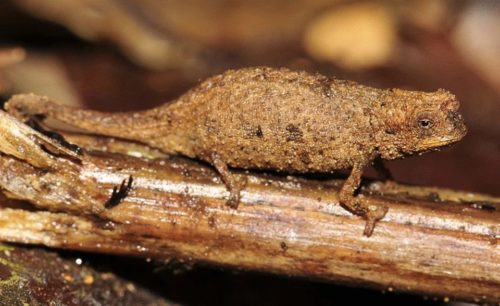 The chameleons have a long tongue which can dart out quickly to grab small insects for food. But B. nana needs to be careful. Since it's so small, it could easily become food for a larger insect or spider.
The scientists are also worried that the tiny chameleons could face other threats. One of these threats is that the rainforests of Madagascar haven't been well-protected.
Luckily, since B. nana was first spotted in 2012, the mountain area where it was found has been protected by the government. Still, only two nano-chameleons have ever been found, and the scientists believe the animals are likely to be endangered.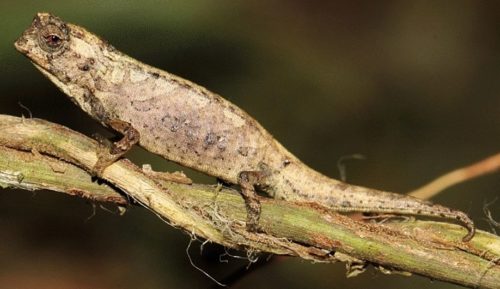 The discovery of B. nana leaves scientists with a puzzle: how small can animals with backbones get? The smaller an animal gets, the harder it is to pack in everything it needs to live.
Though the nano-chameleon is far smaller than most animals with backbones, scientists point out that there are frogs that are even smaller than B. nana.
😕
This map has not been loaded because of your cookie choices. To view the content, you can accept 'Non-necessary' cookies.