In the past, scientists have shown that bees have some surprising math skills. Now, new research shows that bees can even be trained to tell the difference between odd and even numbers. Before this, humans were the only animals known to have this ability.
Bees are smarter than many people think. Through special dances, they can tell each other how far away food is and in what direction. They can count up to four. In recent years, scientists have shown that bees have even greater math abilities than they imagined.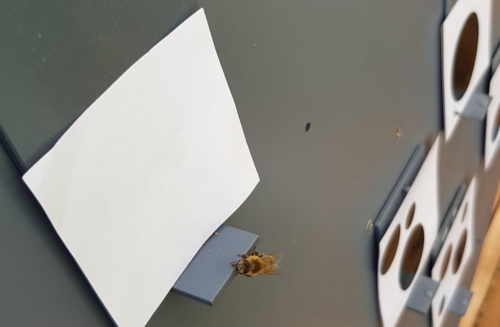 In 2018, researchers in Australia discovered that bees could understand the idea of "zero". That was a big surprise, since only a few animals, like dolphins, monkeys, and some birds, had shown that they understood zero. Later, the same scientists showed that bees could be trained to add and subtract.
But the idea of odd and even numbers is very different. Even numbers can be split into two equal groups. With odd numbers, one group always has one more item than the other. But except for doing math, it's not clear how knowing the difference between odds and evens helps humans – much less bees.

Learning odds and evens is a skill that's usually taught in elementary (primary) school. Often, students are taught to remember that numbers ending in 0, 2, 4, 6, and 8 are even, while numbers ending in 1, 3, 5, 7, and 9 are odd. Until recently, humans were the only animals known to understand this.
To train the bees, scientists in Australia hung up cards with an odd or even number of shapes (like triangles or circles). The cards represented the numbers 1 through 10. Under each card was a small tray with a liquid. If a bee flew to the right card, it would get sugar water. If it chose the wrong card, it got a sour liquid.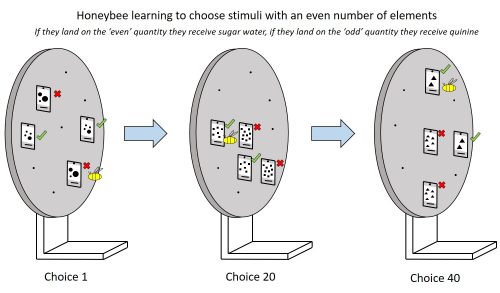 The researchers trained one group of bees to choose odd numbers. They trained another group to choose even numbers. They kept training the bees until they got it right 80% of the time.
Then they added a new challenge. They had the bees choose between cards with 11 and 12 shapes on them. The bees had never seen these numbers in their training. Even so, they were able to correctly choose the odd or even number 70% of the time.
The scientists still don't understand what methods the bees used to get the correct answer.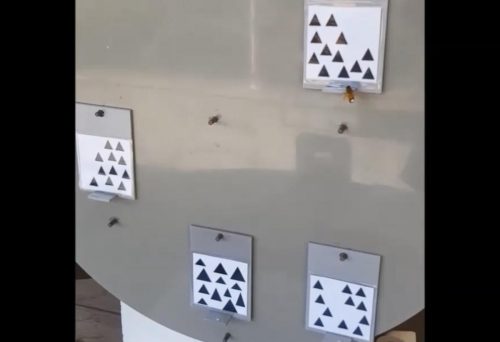 One reason for this research is that the scientists believe that studying bee brains might help us learn how to build better and faster computers. After all, a bee's brain is about 86,000 times smaller than a human brain. How does it handle such complicated ideas?
Unless…they're not so complicated. The scientists built an extremely simple computer system with just five connections called "neurons". (Your brain has about 86 billion neurons.) Even though this network of neurons was far too small to be considered a "brain", the scientists were able to train it to tell the difference between even and odd numbers up to 40.
---
Did You Know…?
Humans seem to prefer even numbers, and have an easier time identifying them. That wasn't true for the bees. They had an easier time learning to recognize odd numbers.