2022 Nobel Prizes Announced
Several winners of this year's Nobel Prizes were named this week. Svante Pääbo won the prize for medicine for his work in figuring out the DNA of Neanderthals. Three scientists – Alain Aspect, John F. Clauser, and Anton Zeilinger – won a prize for their work in quantum physics. Quantum physics is a complicated subject, but the efforts of these scientists could change the way computers work in the future.
Nobel Prizes
The prize was created by Alfred Nobel, the inventor of dynamite. He didn't want to be remembered for making things blow up, so he used his money to give prizes to people who had done important work. The first prize was given in 1901. There are four Nobel prizes in different areas of science, one for literature (writing), and one for working toward peace.
😕
This image has not been loaded because of your cookie choices. To view the content, you can accept 'Non-necessary' cookies.
Another three scientists – Carolyn R. Bertozzi, Morten Meldal, and K. Barry Sharpless – won a prize for their "click chemistry". Click chemistry is a way of snapping molecules together almost like Legos. Click chemistry is expected to make huge differences in creating medicines and treating diseases.
French author Annie Ernaux won this year's award for literature. The Nobel Prizes for peace and "economic sciences" have not been announced yet.
Aaron Judge's 62nd Home Run Breaks American League Record
On Tuesday night, New York Yankees slugger Aaron Judge hit his 62nd home run of the season, setting a new record for the American League (AL). The Yankees lost the game, but Judge made his way into the history books.
😕
This image has not been loaded because of your cookie choices. To view the content, you can accept 'Non-necessary' cookies.
The previous AL record of 61 homers was set by Yankees star Roger Maris in 1961. Judge tied Maris's record on September 28. Since then, people have been eagerly watching to see if Judge could break the record.
Other baseball players have scored more home runs in a season. But those people set their records while taking drugs designed to make them better athletes. Many people see Judge's record as the "clean record".
Before Maris, the famous slugger Babe Ruth – also a Yankee – held the record. In 1927, Ruth knocked out 60 home runs. His record stood for 34 years.
😕
This image has not been loaded because of your cookie choices. To view the content, you can accept 'Non-necessary' cookies.
The ball that Judge hit into the stands was caught by a fan. The fan was later offered $2 million for the ball. He says he's still not sure what he's going to do.
Lottery in the Philippines Has 433 Winners
Every day, the Philippine government runs a lottery. In a lottery, gamblers pay to try to pick the correct combination of numbers. These numbers are chosen at random by the group running the lottery. People who pick the right numbers win a large amount of money. The lottery makes money because most gamblers lose, so the government earns more on tickets than it pays out in prizes.
For the Grand Lotto, gamblers pick six numbers between one and 55. Normally, there's just one chance out of 28,989,675 that a person would pick the six numbers correctly. But last Saturday, 433 people got all six numbers right. The result surprised and upset many people. Some thought there might be cheating going on.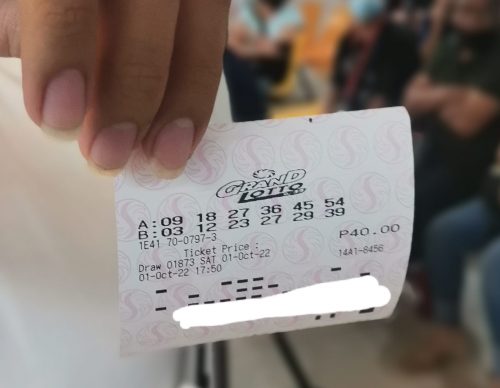 But math experts say there may be no problem. The winning numbers for the lottery were 9, 18, 27, 36, 45 and 54 (not in that order). Nine goes into all these numbers. Since lottery numbers are chosen at random, it's not unusual for these numbers to turn up some time.
But 433 winners?
Lottery numbers are random, but many gamblers don't choose numbers at random. They like patterns. And 9, 18, 27, 36, 45, 54 appears to be a pretty popular pattern.
---
Did You Know…?
The 433 winners will split the prize, which is worth about $4 million. That means each person will get about $9,300.