Kyiv, Ukraine —(Map)
On Monday, US President Joe Biden made a surprise visit to Ukraine, where he met with Ukraine President Volodymyr Zelensky. The visit was meant to show support for the country in its fight against Russia as the war enters its second year.
This coming Friday will mark one year since Russia invaded Ukraine. It has been an incredibly difficult time for the country. Over 7,000 civilians have been killed, and more than 11,000 have been wounded. Forty-thousand or more Ukrainian soldiers have been killed or wounded.
Roughly 8 million people in the country have been forced to move to other parts of Ukraine, and over 8 million more have left the country for safety.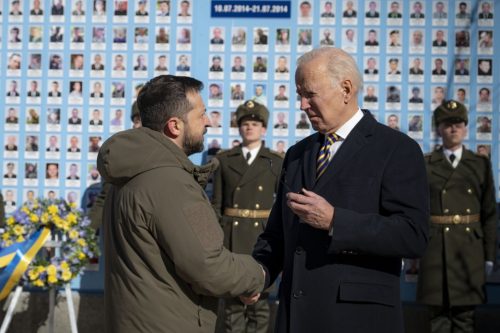 Mr. Zelensky and Mr. Biden met in the capital city of Kyiv. They walked to a special wall which honors soldiers who have died fighting for Ukraine.
Mr. Zelensky said that Mr. Biden's visit was a "huge moment" for Ukraine. He said that it showed that Ukraine was not alone in its fight against Russia.
Russia continues to pound the country with missile and drone attacks. Russia has put a lot of effort into trying to destroy Ukraine's systems that supply energy, heat, and water. Russia's attacks often hit cities far away from where the fighting between soldiers is happening.
Such attacks made it difficult for Mr. Biden to visit Kyiv. Alarms warning of an air attack could be heard during his visit. For safety, Mr. Biden's visit wasn't announced ahead of time. He arrived in the country after a nearly 10-hour train trip during a planned visit to Poland.
When Russia first attacked Ukraine last year, many people didn't expect the war to last long. It was hard to imagine how Ukraine could hold out against Russia, with its larger army and more powerful weapons.
But Ukraine did hold out. As Mr. Biden said in Kyiv, "One year later, Kyiv stands. And Ukraine stands." Though Russia has taken some land, Ukrainian forces have often surprised Russia. Ukraine has pushed Russian soldiers back, taking back large areas of land that Russia had captured.
At the start of the war, Western countries were very careful in the kind of support they offered. They wanted to support Ukraine without entering the war themselves. But Ukraine's successes have encouraged Western countries to support it more strongly. Recently many Western countries have offered Ukraine advanced tanks and air defense systems.
Since the war started, the US has promised Ukraine over $100 billion in aid, weapons, and other military support. On Monday, Mr. Biden promised Ukraine another $500 million in military aid.
Mr. Biden's visit to Ukraine wasn't just meant to encourage Ukraine's people. It was also a way of encouraging others to support Ukraine. In the US, some people are starting to question spending so much money supporting Ukraine.
But it's become clear that the war in Ukraine won't be a short one, and support from outside countries may be needed for a long time. Mr. Biden said he didn't want there to be any doubt "about US support for Ukraine in the war."