On Sunday, Thailand and Turkey held important elections that could lead to big changes. In Thailand, opposition parties clearly defeated the current military government. In Turkey, the close results have led to a runoff election.
Thailand
Thailand's general election on Sunday resulted in a big victory for the main opposition parties, the Move Forward Party (MFP) and the Pheu Thai party. The election is the first since 2020, when young people across the country protested for democracy.
Over 75% of Thai voters took part in this election. That's a record. The MFP won 151 seats and Pheu Thai won 141 seats. Together, they easily defeated political groups supported by the military.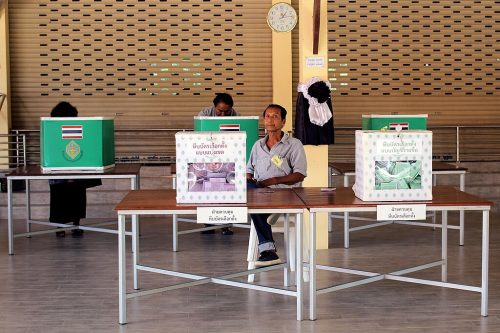 The coronavirus pandemic has been hard on Thailand's economy. The MFP promised to work hard to improve the situation for businesses and people. The party also promised to work to change Thailand's strict rules about its monarchy. Currently, anyone who insults the king can be sent to jail for a long time.
The current prime minister, Prayuth Chan-ocha, has led Thailand since taking control in a 2014 coup. He was made prime minister after the 2019 election. On Sunday, Mr. Prayuth's party won just 36 seats.
Opposition parties won a majority of seats in Thailand's House of Representatives, but they still face challenges. To form a government, it takes 376 seats out of the 500 in the house.
The MFP's leader, Pita Limjaroenrat, is thinking about creating a coalition with the Pheu Thai party, led by Paetongtarn Shinawatra, and four other parties. Even then, they'd only have 309 seats.
Another problem is that the Senate helps choose the prime minister. And the 250 members of the Senate were chosen by the military.
Turkey
Turkey's election for president is moving to a second round on May 28th. President Recep Tayyip Erdogan and his main opponent didn't get enough votes to win right away. In his 20 years in power, it's the first time Mr. Erdogan has ever faced a second round of voting.
Over 88% of Turkey's voters voted in the first round. Mr. Erdogan won 49.5% of the votes. Kemal Kilicdaroglu, who leads a group of six opposition parties, got 44.89%. The runoff election will decide who leads Turkey for the next five years.
Some people thought Mr. Erdogan might not do so well. Turkey's economy has been struggling. And many people blame Mr. Erdogan for Turkey's poor response to February's terrible earthquake.
Mr. Kilicdaroglu has also been a stronger candidate than many people expected. Mr. Kilicdaroglu has tried to bring people together with a message of hope. He promised to work on Turkey's money problems and on making the government better at representing the country's people.
But it could be hard for him to win the second round. Mr. Erdogan has shown that he's still popular with voters. He's a tough leader, and many voters seem to like that. He has a lot of power in Turkey, and uses it to win voters. Mr. Erdogan controls most of Turkey's media, and is able to spend government money on projects voters like. Mr. Erdogan's party is likely to keep control of the parliament.
---
Did You Know…?
Another candidate, Sinan Ogan, won't be in Turkey's runoff election. He got 5.2% of the vote in the first round. Most of his supporters are likely to vote for Mr. Erdogan.