A group of scientists from the University of Kitakyushu in Japan has come up with an unusual solution to a messy problem. They've taken dirty diapers, and used them to replace some of the sand needed to build a house with concrete.
Concrete is one of the most common building materials in the world. It's used to construct many things, including roads, sidewalks, and buildings. Concrete is usually made by mixing together sand, water, and cement.
But making concrete creates a lot of pollution. And it uses a lot of sand. Mining for sand creates other problems for the environment.
Siswanti Zuraida had an unusual idea. What if some of the sand in concrete could be replaced with used disposable diapers?
😕
This image has not been loaded because of your cookie choices. To view the content, you can accept 'Non-necessary' cookies.
Diapers are a huge source of pollution. In the US alone, over 8 billion pounds (3.6 billion kilograms) of them are thrown away each year. These end up taking up space in landfills. In other countries, dirty diapers can wind up in rivers and creeks. One 2018 study in Indonesia showed that nasty nappies made up more than 20% of the trash pulled from waterways in 15 cities.
So Ms. Zuraida and her team set out to study the problem. They collected used diapers, cleaned them up, and treated the diapers with chemicals to get rid of any bad germs. Then the diapers were dried and shredded into small pieces that could be added to concrete.
The researchers tested out their idea by making different mixes of concrete with various amounts of shredded diapers. They found that this new kind of concrete was just as safe and strong as regular concrete. It also didn't have any harmful germs in it.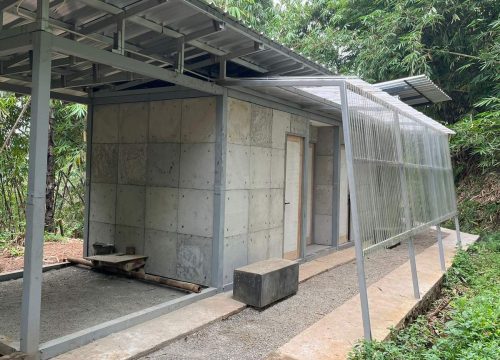 Overall, the scientists say that diapers could replace up to 8% of the sand used in the concrete needed to build a house. In the parts of a house that support a lot of weight, 10% of the sand could be replaced with shredded diapers. In areas that don't have to support much weight, as much as 40% of the sand could be swapped out for diapers.
The scientists didn't just test the strength of the concrete. They actually built a small concrete house to test their ideas in real life.
The researchers think their idea could make it less expensive to build homes. After all, sand needs to be mined, which costs money. Used diapers are basically free, and there's no shortage of them.
Ms. Zuraida and her team are excited about their results, but they realize that there's still a lot of work to be done. If diapers are really going to be used in concrete, someone will have to figure out how to safely collect, clean, and store lots and lots of used diapers.
The team is still trying to figure out how that might work. They are also studying how well diaper concrete is able to block out heat and sound.
Perhaps the biggest challenge will be persuading people to use concrete made with diapers. What do you think? Is it time to change the house?