Mars —
On Monday, NASA will try to land its InSight spacecraft on Mars. Landing the InSight* will be a huge challenge, but if all goes well, it should send back important information about the inside of Mars for the next two years.
NASA wants to learn more about how rocky planets like Earth, Mars, and Venus are made. Mars is very different from Earth and Venus. NASA thinks studying the inside of Mars will tell us more about how rocky planets are created. They also hope to learn more about the history of all the planets that go around our sun.

NASA launched InSight in May of this year. Now, after traveling through space for six months, InSight is almost ready to land on Mars. Unlike some other spacecraft NASA has sent to Mars, InSight will not travel once it lands. It will stay in one place, using several different tools to study the inside of Mars.
InSight has a special "self-hammering" nail that it will drive down about 16 feet (5 meters) below the surface of Mars. This will send back information about the temperature inside of Mars. That will help scientists learn more about volcanoes on Mars.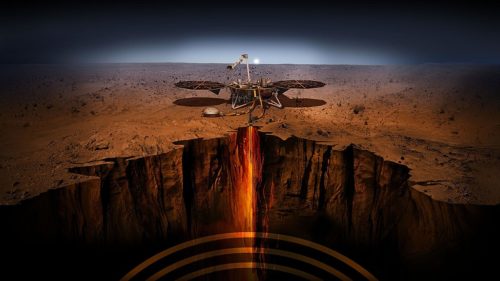 NASA also wants to learn about "marsquakes". These are like earthquakes, but they happen on Mars. InSight has two special machines called seismometers that will help measure marsquakes. This information will help NASA learn more about the core and other layers inside the planet.
Before InSight can do any of that, it will have to land safely. That's a challenge. Tom Hoffman, the leader of the InSight project, says, "Any time you're trying to land on Mars, it's crazy." About 60% of all trips to Mars have failed.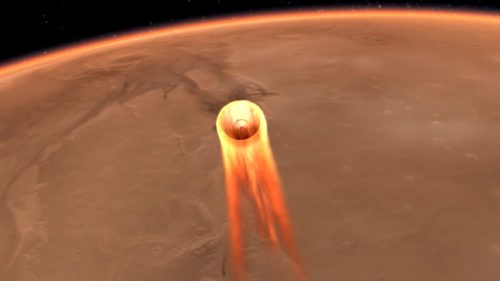 InSight will have about six minutes to make its landing and everything must happen just right. Since it takes about eight minutes for information to travel to Mars and back, NASA will not be able to help. InSight will have to handle everything, using its own computers.
InSight will count on its heat shield to protect it from temperatures as hot as 2,700 degrees Fahrenheit (1,482 degrees Celsius) as it falls through the gases that surround Mars. InSight will need to slow down from 12,300 miles per hour (19,800 kilometers per hour) to 1,000 miles per hour (1,600 kilometers per hour).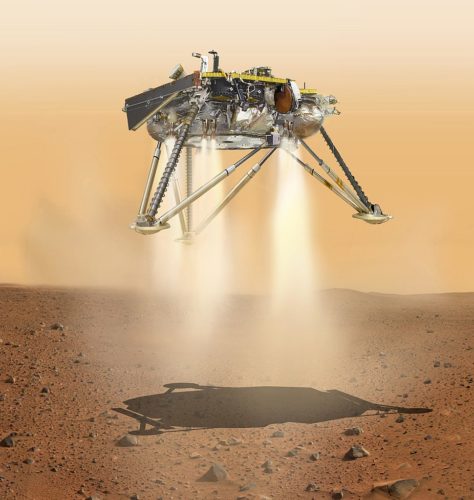 Then it can put out a parachute which will slow it down more. When it's two-thirds of a mile (1 kilometer) from the surface, InSight will let go of the parachute and use its engines to slow down even more. If all goes well, InSight will be traveling at just 5 miles per hour (8 kilometers per hour) when it pops down on its three legs. NASA hopes InSight lands in a flat area. If it falls over, there's no way to pick it back up again.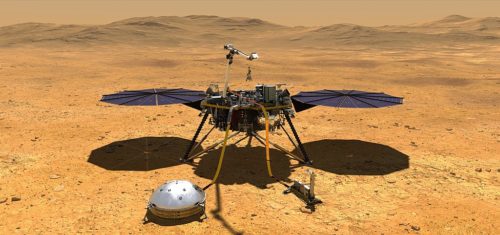 NASA scientists will check the area for weeks before they begin to put InSight's testing tools in place using a special arm that can grip things. InSight will get power from the sun using two solar panels.
The entry and landing of the InSight will happen around 2:54 p.m. Eastern Standard Time(). The landing can be watched live here.
* InSight stands for "Interior Exploration using Seismic Investigations, Geodesy and Heat Transport".