British Columbia, Canada —(Map)
In April, a group of Canadian scientists flying in a helicopter spotted something they didn't expect to see – a huge, unknown cave with an opening the size of a football field.
The cave was discovered in the northern part of Wells Gray Provincial Park, in a wild, faraway area of Canada's Cariboo Mountains. The area is hard to get to and even harder to travel through. It is covered with snow for much of the year. The deep valleys were cut out thousands of years ago by huge sheets of ice called glaciers.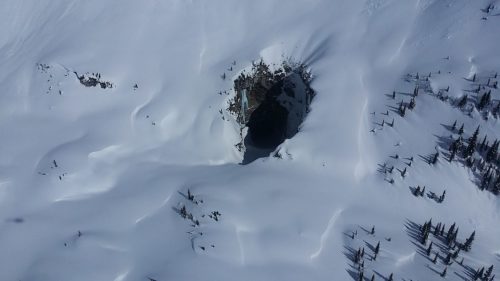 The scientists were in the helicopter to count caribou, a kind of reindeer found in North America. The pilot noticed the cave, even though it was partly filled with snow.
The group told Catherine Hickson about the cave. Dr. Hickson is a geologist – she studies rocks. Dr. Hickson got a team of cave experts together to explore further. The team spent months looking at pictures of the cave and planning a trip to study it. They knew they needed to wait until most of the snow melted.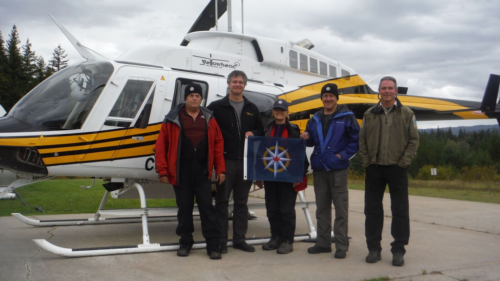 In September, they returned for a closer look. They were flown back by the pilot who had first spotted the cave. They knew right away it was worth the trip.
The cave is one of the largest in Canada. One member of the team, Lee Hollis, says the pictures don't really show how big the cave is, but, "You know it's big when you're standing there."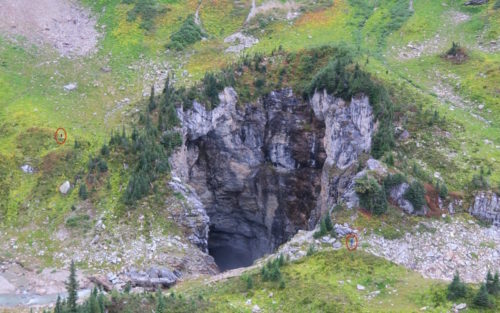 Not only is the opening to the cave larger than a football field, the cave is also deep. The team couldn't measure all the way to the bottom, but they think it may be more than 200 yards (180 meters) deep. The cave is tens of thousands of years old. But the rock it is made of used to be at the bottom of an ocean. It is hundreds of millions of years old.
A small, but fast river of melting snow leads into the cave on one side, creating a waterfall near the top and a river at the bottom. The water comes out again a long way away. The exit is about 1.3 miles (2.1 kilometers) away and about 1/3 of a mile (1/2 kilometer) lower down.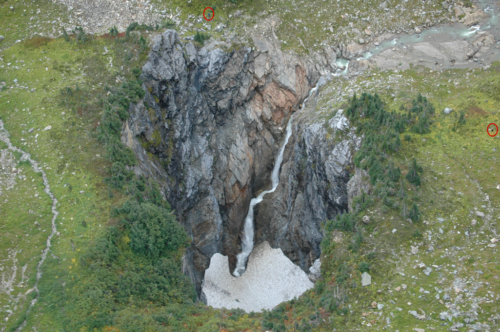 Mr. Hollis set up ropes and went part of the way down into the cave until he was stopped by the quickly running water. Mr. Hollis has been caving for more than thirty years, and he says this cave is the largest pit he's gone into.
The team hopes to make at least two more visits to the cave before 2020.
The cave will have to wait to get an official name. For now, the cave is being called "Sarlacc's Pit" because it looks similar to the home of Sarlacc, a character in the Star Wars movie The Return of the Jedi.
For Dr. Hickson, there's a lesson to be learned from the cave. "It shows you, you don't know everything," she says. "There are things yet to be discovered."