Fire Destroys Refugee Camp on Greek Island
Last Tuesday night, a fire destroyed most of the Moria refugee camp on the Greek island of Lesbos. The camp was created as a temporary home for refugees hoping to live in the European Union.
Moria is Europe's largest refugee camp, and far too crowded. It was designed for 3,000 people, but over 12,000 refugees live there.
The conditions in the camp were poor and unsafe, with little running water and not enough food. The coronavirus made life even more difficult.
It's not clear how the fire began. The Greek government has suggested that it was started by a group of refugees with the coronavirus who had to be isolated from the rest of the camp. Strong winds quickly spread the fire, destroying most of the camp.
Now, thousands of refugees are sleeping on the streets. Though many are hoping for better conditions, Greece has said that for now, no one will be allowed to leave the island.
Many people have been requesting better treatment for the refugees for years. The fire has made the need for action even more clear.
Protests and Arrests Continue in Belarus
Thousands of people have continued to protest in Belarus following last month's election. Many people questioned the election results, which seemed to show President Aleksandr Lukashenko winning again. Mr. Lukashenko has already led Belarus for 26 years.
Protests are highly unusual in Belarus, where such activities are usually strongly punished by Mr. Lukashenko's government.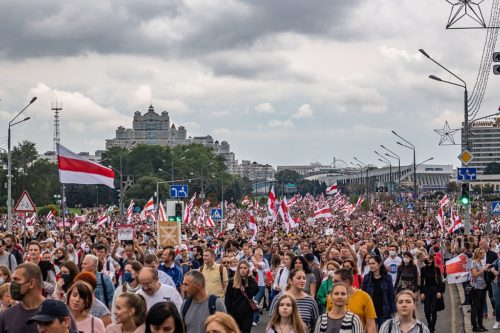 This time, the people of Belarus seem determined to change things, in spite of thousands of protesters being arrested, and even beaten. Marches, rallies, and strikes have continued, sometimes with as many as 250,000 people.
Mr. Lukashenko's government has dealt harshly with the protesters, and the politicians who oppose him. Several candidates from the political party that opposed Mr. Lukashenko have left the country for safety. Others have been forced out of the country or put in jail.
The protests are the biggest challenge Mr. Lukashenko has had in his career. So far, neither side seems ready to give up.
Colin Kaepernick is Back in the NFL – in a Video Game
Colin Kaepernick is a talented quarterback who played American football for the San Francisco 49ers. In 2016, he drew attention by kneeling during the US national anthem (song) to protest police violence against people of color.
Many people claimed Mr. Kaepernick's protests didn't show respect for the US anthem and flag. In spite of Mr. Kaepernick's talent, no NFL team would hire him.
Things may be slowly changing. Continued police violence against black people has led to huge protests this year. Many pro athletes are following Mr. Kaepernick's lead, and kneeling during the national anthem.
Now video game maker EA Sports has included Mr. Kaepernick in their game Madden NFL 21. Mr. Kaepernick hasn't appeared in the game since 2016.
EA worked with Mr. Kaepernick to bring him back into the game because they believe he's an important figure, even though he's not in the NFL.
The NFL now says it should have supported Mr. Kaepernick and people of color sooner. The big question: Will Mr. Kaepernick ever be rehired to play football again in real life?