US Senate Holds Hearings for Supreme Court Justice
Last week, Judge Amy Coney Barrett was interviewed by Senators on the Judiciary Committee of the US Senate. The Judiciary Committee is a group of Senators who oversee things related to judges and courts.
Judge Barrett was nominated for the Supreme Court by President Donald Trump to replace Justice Ruth Bader Ginsburg, who died last month.
During the hearing, Republicans worked to show Judge Barrett as a fair and experienced judge. Democrats questioned Judge Barrett closely on her views on different subjects, such as health care and women's rights. In general, Judge Barrett avoided sharing her opinions.
Many people are upset that a new justice is being considered now. In 2016, Republicans refused to consider a judge nominated by President Barack Obama, saying that the next president should have the right to choose the Supreme Court justice.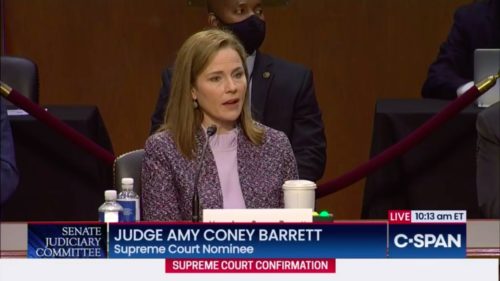 Now the Republicans have changed their minds. They are eager to approve Judge Barrett now, while they still have control of the Senate.
It's expected that Judge Barrett will be approved by the Judiciary Committee next week. If that happens, Republicans say they have enough votes to confirm her.
Following Protests, Kyrgyzstan President Steps Down
After Kyrgyzstan held elections for parliament on October 4, violent protests broke out. The protesters said the results of the election were unfair. The protesters took over several important government buildings and stormed prisons, forcing the release of several prisoners.
As a result of the protests, the government announced that the election results no longer counted. The country's prime minister stepped down. He was replaced by Sadyr Japarov, who had just been released from prison by the protesters. Mr. Japarov was sent to jail for kidnapping.
On Thursday, President Sooronbay Jeenbekov announced that he planned to resign once things calmed down. Mr. Jeenbekov said, "I don't want to go down in Kyrgyzstan's history as the president who spilled blood and shot at his own citizens."
Mr. Japarov demanded that Mr. Jeenbekov step down immediately. Mr. Japarov says he will now act as president until elections for president are held next year.
Rare Pink Dolphins Make a Comeback in Hong Kong
The waters around the Pearl River in Hong Kong are home to a rare kind of dolphin known for its pink color. These pink dolphins aren't found anywhere else.
Over the last 15 years, because of pollution, building, and boats, their numbers have dropped by about 80%. There are currently only about 2,000 pink dolphins left. Scientists worry that they could soon die out completely.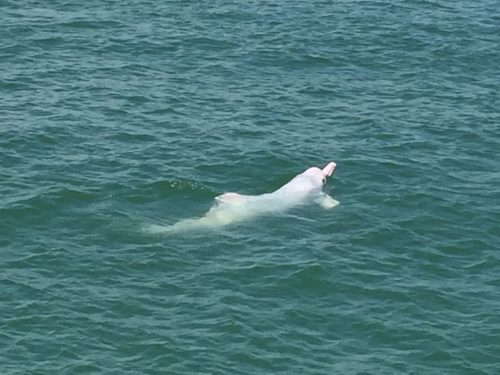 But the coronavirus has been good for Hong Kong's pink dolphins. Because of the virus, the ferry boats which constantly travel across the waters in the area have been shut down. During the shutdown, pink dolphins have been seen in much greater numbers.
Scientists believe the noise from the ferries makes it hard for the dolphins to communicate, and to guide themselves using sound. The dolphins are also sometimes injured by ferries.

People working to protect the pink dolphins are excited about how quickly the dolphins are recovering. But they're also very worried about what will happen once the normal ferry traffic begins again.