Oddar Meanchey, Cambodia —(Map)
Kaavan the elephant has been described as "the world's loneliest elephant". After spending years alone in a zoo in Pakistan, on Tuesday, Kaavan arrived in Cambodia, where he will have plenty of elephants for company.
Kaavan was the only Asian elephant in Pakistan. He was given to the president of Pakistan in 1986, and wound up in Islamabad's Marghazar Zoo.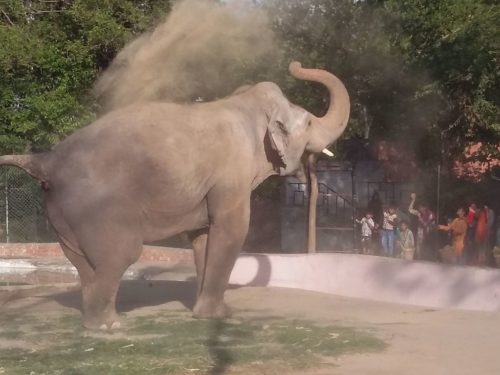 Life was hard for Kaavan. The conditions at the zoo weren't good. During the days, he was trained to use his trunk to beg for money from zoo visitors. In 1990, a female elephant named Saheli was brought to the zoo. The two became close, and remained together for over twenty years.
But in 2012, Saheli died, leaving Kaavan alone again. Elephants form close friendships. When Saheli died, Kaavan felt the loss deeply. He became sad and unhealthy.
Because of the bad conditions, he sometimes became violent, and was kept in chains much of the time. He weighed far too much, and his health and his mood got worse and worse.
In 2015, a student from Pakistan started an online petition to free Kaavan. In 2016, reporters wrote about Kaavan's conditions. Even Pakistan's parliament suggested that Kaavan should be rescued from the zoo. But still nothing happened.
When pictures of Kaavan, chained and alone, were put on the internet, they spread widely, upsetting many people around the world.
The American singer Cher was one person who was upset. She began to work to rescue Kaavan, starting an online program called #SaveKaavan. She also began paying lawyers to work to free the elephant.
But it wasn't until June, 2020 that a court in Pakistan ordered the zoo to close. A group called Four Paws International (FPI), which works to rescue animals, came up with a plan to help Kaavan.
FPI planned to take Kaavan to Cambodia, but there were two problems. Kaavan was way too heavy – he was being fed an unhealthy diet of 550 pounds (250 kilograms) of sugar cane a day. The other problem was that he could be violent.
Dr. Amir Khalil, a veterinarian for FPI, worked with Kaavan for three months. He put him on a healthy diet and helped the elephant lose 990 pounds (450 kilograms).
He also managed to make friends with Kaavan in a surprising way – by singing to him. Dr. Khalil says most people don't like to hear him sing, but for some reason, Kaavan does. It didn't take long before Kaavan was giving Dr. Khalil gentle hugs with his trunk.
Dr. Khalil and others worked for months to get Kaavan used to entering the special crate that would be used to fly him to his new home.
Kaavan made the seven hour flight to Cambodia with no problems. Cher came to visit him as he was leaving Pakistan, and again when he arrived in Cambodia.
On Tuesday, he was taken by truck out to his new home. Kaavan is now in a protected wildlife area in Oddar Meanchey, Cambodia, where there are 600 other elephants. He's no longer alone.