English Harbour, Antigua —(Map)
Last Saturday morning, Jasmine Harrison became the youngest woman to row alone across an ocean. It took the 21-year-old swimming teacher just over 70 days to row across the Atlantic Ocean.
Ms. Harrison, who's from North Yorkshire, England, didn't have loads of experience in rowing long distances. She'd only gotten the idea three years earlier when she happened to be in Antigua and saw the end of the 2017 Talisker Whisky Atlantic Challenge. "I just thought, I want to do this, so I'm going to do it," she said.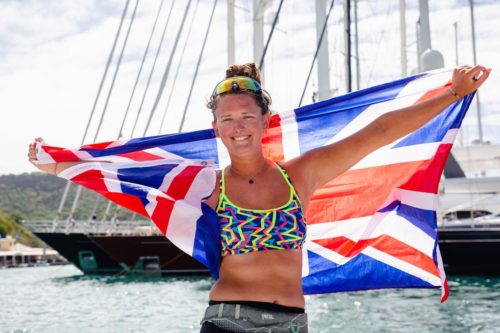 Every year, rowers taking part in the Atlantic Campaign set off from the Canary Islands in December and row roughly 3,000 miles (4,828 kilometers) across the Atlantic. Some handle the rowing in teams of two, three, or four. Others, like Ms. Harrison, row by themselves.
It wasn't easy. Every day, Ms. Harrison would row for about 12 hours, pushing her 550-pound (250-kilogram) boat across the ocean. On average, she rowed about 20,000 strokes a day, covering roughly 60 miles (97 kilometers).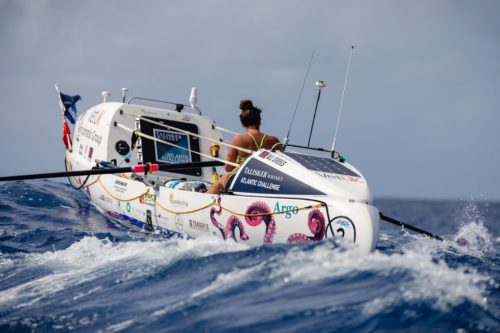 Ms. Harrison had a satellite phone that allowed her to talk with family and friends every day. But the journey still left her with a lot of time all by herself, which she says she enjoyed. But things got a little harder after her speaker fell in the water and she could no longer listen to her music.
She had other company along the way. She saw lots of sea life, including several whales. One even rose out of the ocean right next to her boat. For several days, she was followed by a small group of dolphins. "I'm in their environment," she said. "It's just amazing."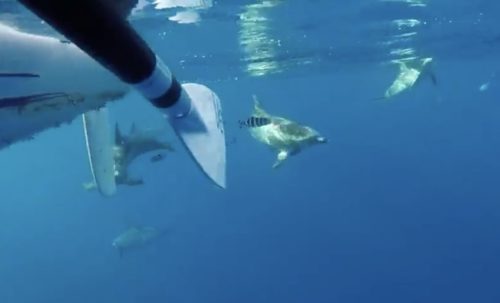 But there was danger, too. Twice, her boat was turned over in the night by large waves. The second time, she hurt her elbow quite badly. Another time, she nearly ran into a ship. "Everything happened when I was asleep," she said.
Many rowers take specially prepared meals that can be easily stored and eaten in a boat. But Ms. Harrison claims she survived on cookies and chocolate. "I think I ate 40 kilograms [88 pounds] of chocolate," she told the Guardian.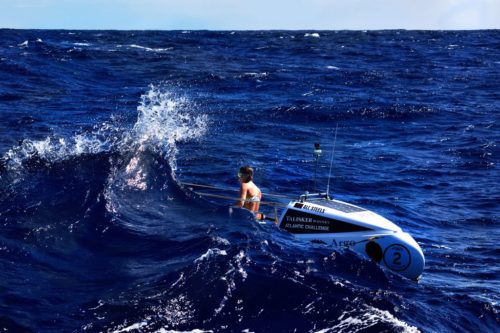 Somehow, she kept going. On February 20, after 70 days, 3 hours and 48 minutes, she reached the island of Antigua – the end of the journey.
Soon, she was taking her first steps on land in over two months. When asked what she was most looking forward to, she said, "Food. Definitely food." She celebrated her arrival with a burger and fries.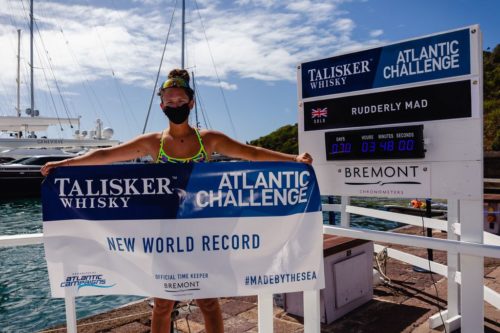 Ms. Harrison's rowing effort has made her the youngest woman ever to row across the Atlantic – or any ocean. Before Saturday, that record was held by Katie Spotz of the USA, who crossed the Atlantic as a 22-year-old in 2010.
But Ms. Harrison's trip didn't just set a record, it also raised over £18,500 (about $25,000) for two charities: Blue Marine Foundation, which works to control overfishing, and ShelterBox, which helps people who have suffered from natural disasters.
---
Did You Know…?
Lukas Haitzmann holds the record for the youngest person to row alone across the Atlantic. He was 18 when he made the trip in 2019.
😕
This map has not been loaded because of your cookie choices. To view the content, you can accept 'Non-necessary' cookies.