South Africa Hit by Deadly Flooding
Flooding earlier this week along the eastern coast of South Africa has led to the deaths of over 300 people. The flooding was the result of unusually heavy rains which began last week and continued through the weekend. Some areas got nearly as much rain in 48 hours as they normally do in a year.
Most of the flooding was in the KwaZulu-Natal province, in or near the city of Durban. Flood waters destroyed buildings and bridges, and damaged over 6,000 homes. Some highways were so heavily flooded that only the traffic lights could be seen above the water. The flooding took out many important services, since power stations, water treatment stations, and cell phone towers were flooded or damaged.
😕
This image has not been loaded because of your cookie choices. To view the content, you can accept 'Non-necessary' cookies.
South African President Cyril Ramaphosa toured the area on Wednesday. Mr. Ramaphosa tied the floods to the climate crisis, saying, "It is telling us that climate change is serious, it is here." Weather experts say it's difficult to link a single event to the climate crisis, but that in general, the climate emergency is making extreme weather more common and more severe.
The problems in the area aren't quite over yet. Strong winds and heavy rains are expected through the weekend.
Philippines Struggles to Recover After Tropical Storm Megi
At least 138 people have died in the Philippines following massive flooding triggered by Tropical Storm Megi. The storm, known locally as Tropical Storm Agaton, made landfall on Sunday. It brought extremely heavy rains to islands in central and southern Philippines, causing flooding that has forced over 160,000 people from their homes.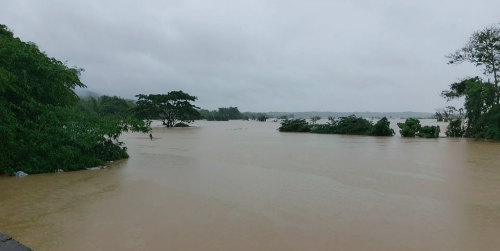 The central province of Leyte was hit the hardest, with landslides completely covering several areas near the city of Baybay. Rescue workers are continuing to look for hundreds of people who are still missing. The government's disaster emergency group says that Megi has caused at least $2.6 million in damage.
The Philippines is hit by several tropical storms and typhoons every year, but the season for those storms doesn't usually begin until June.
Alyssa Nakken Becomes First MLB Female On-Field Coach
On Tuesday, the San Francisco Giants baseball team defeated the San Diego Padres 13-2. But history was made long before the game finished. That's because assistant first-base coach Alyssa Nakken took over for the Giant's regular first-base coach Antoan Richardson in the third inning. That made Nakken the first female on-field coach during a regular season Major League Baseball game.
😕
This image has not been loaded because of your cookie choices. To view the content, you can accept 'Non-necessary' cookies.
Nakken is used to making history. In 2020 she became MLB's first full-time female coach. Nakken played first base for her college softball team, and has been training with Richardson for years. She coached on-field once before, in 2020, but that was before the regular season started.
Nakken was celebrated by the players. Eric Hosmer, who plays first base for the Padres, shook Nakken's hand and congratulated her. He said it was a "special moment for the game" of baseball.
"Sometimes I think we always limit ourselves to thinking what we could do," Nakken says. "At least that's my experience. I never thought that I could do something like this because I never saw it." Now, girls everywhere can see Nakken, and might realize that they could do something similar, too.
---
Did You Know…?
Nakken isn't the only one making baseball history. Earlier this year Rachel Balkovec was named the manager of the Tampa Tarpons, a minor league baseball team connected to the New York Yankees. She's the first woman to manage a professional baseball team connected to the MLB. When she was first looking for jobs in baseball, Rachel had to use the name "Rae" to get teams to even talk to her.