Galapagos, Ecuador —(Map)
Scientists exploring the ocean around the Galapagos Islands have discovered a healthy, active coral reef, deep below the surface of the sea. The reef is unusual because it is so healthy, and has not been damaged by humans.
The Galapagos Islands are a special group of islands 600 miles (1,000 kilometers) off the coast of Ecuador. Because the islands are so far from land, they are home to many plants and animals that can't be found anywhere else.
That's true in the sea, too. Galapagos waters hold many kinds of sea life that can only be found there. The waters around Galapagos are home to roughly 2,900 different kinds of marine plants and animals. Since 1998, the ocean area around the Galapagos has been protected by one of the largest marine reserves in the world.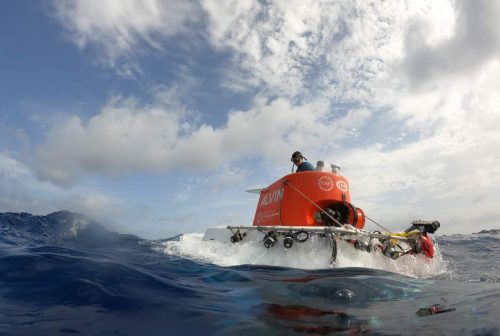 Coral Reefs
Underwater corals may look like plants or rocks, but they are actually made out of millions of tiny animals. Over long periods of time, these tiny animals have built coral reefs. Coral reefs provide conditions that attract and support many other sea creatures. As the temperature of the world's oceans has increased in recent years, many corals around the world have begun to die off.
The scientists were exploring the sea floor around the islands as part of the Galapagos Deep 2023 project. The project uses a special submarine called Alvin to make maps and take images and videos of the sea floor. Alvin can hold two people at a time and can go as deep as four miles (6.5 kilometers).
The scientists were exploring in the middle of Galapagos, in an area of the sea that hadn't been studied before. Two scientists, Dr. Michelle Taylor and Dr. Stuart Banks, used Alvin to drop down more than a third of a mile (0.6 kilometers) below the ocean's surface.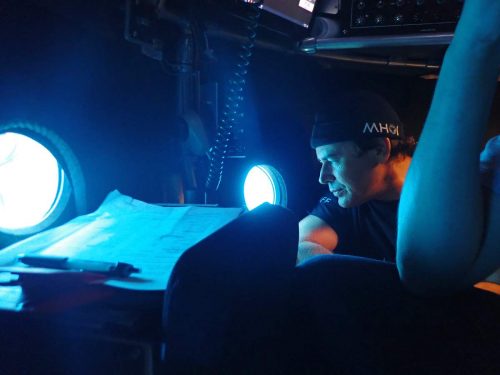 What they saw surprised them – a colorful deep-sea coral reef full of life and activity. There were lobsters, octopuses, spiky sea urchins, many kinds of fish, as well as sharks and rays.
The scientists were amazed by the size and health of the reef, which may be thousands of years old. The corals appear to love the cold water. There were actually far more living corals on the reef than the researchers expected.
The researchers say it's unusual to find a coral reef that hasn't been damaged by humans. Dr. Taylor says that in other areas, deep-sea reefs are often littered with trash, including lost fishing gear. But the scientists describe this reef as "pristine", meaning that it is untouched by pollution or other human activities.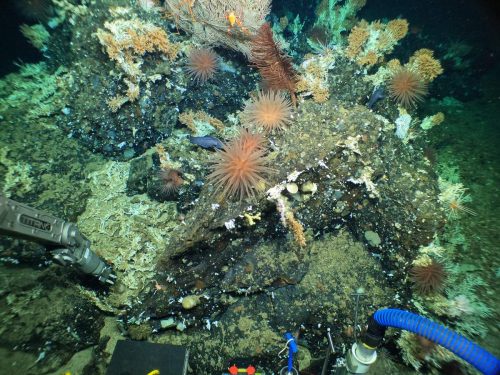 Other, shallower coral reefs in Galapagos haven't done so well. Almost all of them have been severely damaged by warming ocean temperatures. Dr. Banks says that deep-water coral reefs may be less affected by rising ocean temperatures – at least for now. He thinks there may be many other deep-water reefs that haven't been discovered yet.
The researchers say the Galapagos Marine Reserve helped protect this coral reef. And now that they know the reef exists, scientists can take greater steps to protect the reef and others like it. Dr. Taylor points out that keeping an eye on the newly-discovered reef will also help scientists understand how climate change is affecting the oceans.
Ecuador's Minister of Environment, Jose Antonio Dávalos, described the discovery as "encouraging news". He said Ecuador planned to continue to create more protected marine areas.
---
Did You Know…?
Even though the coral reef was deep underwater, it was actually on top of an undersea mountain.
😕
This map has not been loaded because of your cookie choices. To view the content, you can accept 'Non-necessary' cookies.