Note: This page, which is now updated weekly, tracks recent news and events related to the Russian war on Ukraine. The situation in Ukraine is very serious. If the subject brings up questions or worries for you, be sure to discuss them with an adult you trust.
Monday, October 3, 2022
On Friday, Russian President Vladimir Putin signed treaties that he claimed turn four large areas of Ukraine into Russian land. Mr. Putin said he would strongly defend these areas. In a speech, Mr. Putin said, "People living in Luhansk and Donetsk, Kherson and Zaporizhzhia are becoming our citizens. Forever." These areas add up to about 15% of Ukraine's land. In each area, governments have been set up that are run by people who support Russia.
Western countries have condemned Russia's actions, and say they do not accept Mr. Putin's claims. The US and many other Western countries have announced more sanctions on Russia as a result of its actions.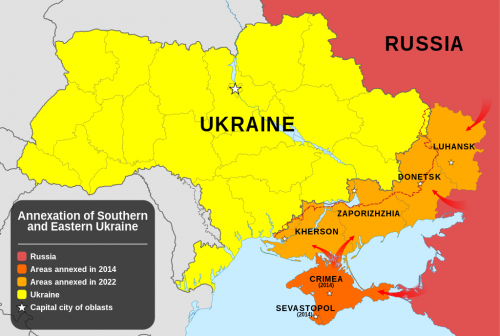 Even though Mr. Putin has claimed the four areas for Russia, Russian forces aren't in firm control of the areas. Ukraine has been attacking strongly and taking back land that Russia won earlier. On Saturday, Ukraine took back the key city of Lyman in Donetsk. Losing control of Lyman will cause problems for Russia's forces, and make it harder for them to move weapons and supplies.
Ukraine President Volodymyr Zelensky said Russia was trying to "steal something that does not belong to it." He says Ukraine will continue to fight for its land. He also announced that Ukraine had officially asked to join the defense group NATO sooner than expected.
---
Monday, September 26, 2022
In four areas of Ukraine where Russian forces have taken control, Russia is holding a special vote called a referendum. The question that voters are deciding on is whether the areas should join Russia or not. The four areas where the voting is taking place are Donetsk, Luhansk, Zaporizhzhia, and Kherson.
Most Western countries believe the votes aren't being held honestly. There are reports of armed Russian soldiers going around to houses to force people to vote. Many Ukrainians have already left the areas because of the fighting. Instead, the votes are seen as a way for Russian President Vladimir Putin to take control of large areas of Ukraine.
Ukraine's forces have had a lot of success in recent weeks, and Russia has been struggling. Last week, Mr. Putin announced that he was calling up 300,000 reserve soldiers. There are some signs that he may call up as many as 1 million. Military experts say this is a sign of how badly the war is going for Russia. The move has triggered protests in Russia and caused many young men to try to leave the country.
Many experts believe Mr. Putin is holding the referendums so that he can claim these areas as "Russian land". Then, if Ukraine continues to fight in those areas, Mr. Putin can use that as an excuse for taking more extreme measures in the war. Mr. Putin has even suggested that he would use nuclear weapons to defend Russian land.
---
Tuesday, September 20, 2022
Ukraine's efforts to retake land in the northeast have continued. Ukrainian forces have taken more land and pushed Russia's soldiers farther back. Ukraine claims that it has now retaken Bilohorivka. That's a village near the eastern city of Lysychansk. Though the village is small, the victory is seen as an important one because it would mean that Russia no longer controls all of Luhansk.
In response to Ukraine's drive forward in the northeast, Russia has been increasing its attacks on sites that are important to everyday life in Ukraine. Last Wednesday, Russian missiles hit a dam in Kryvyi Rih, which caused flooding in the city. Ukraine President Volodymyr Zelensky is from the city of Kryvyi Rih.
Bombs have also damaged the country's electrical system. On Sunday night, Russian missiles exploded very close to the Pivdennoukrainsk Nuclear Power Plant. The plant was not damaged.
Last week, Russian President Vladimir Putin met separately with the leaders of China and India. Though neither country has openly supported Russia's war on Ukraine, they have also not criticized it or put sanctions on Russia. Mr. Putin told both Xi Jinping of China and Narendra Modi of India that he knew about their concerns. Mr. Modi delivered one of India's strongest messages yet, saying, "today's time is not a time for war."
Monday, September 12, 2022
Ukraine's efforts to strike back at Russia in the south of the country have shown some minor successes. But it turned out that Ukraine's actions in the south were really a trick to distract Russia's attention.
While Russian forces were focused on the south, Ukraine launched a rapid attack in the northeast last Friday. The attack took Russia – and much of the world – by surprise. The attack was a huge success. Russian forces were so surprised that in many places, they simply left their equipment and ran.
As a result, Ukraine has taken back huge amounts of land that Russia had captured. This includes over 1,000 square miles (2,600 square kilometers) around Kharkiv. In response to Ukraine's rapid attack, Russia bombed many power stations in Ukraine on Sunday, leaving much of Kharkiv without power.
The sudden defeat in the northeast has been very embarrassing for Russia. Inside Russia, some people are beginning to criticize the war effort. That's very unusual, since criticizing the government isn't normally allowed in Russia.
Ukraine has shut down the Zaporizhzhia Nuclear Power Plant. The plant – the largest in Europe – has often been attacked in recent months, causing safety concerns. After losing all power from outside, experts have decided to shut the plant down for safety.
Even with all of its reactors shut down, the plant will still need electricity for cooling its reactors. If there's a long-term problem with the electricity, it could lead to a very dangerous situation. The energy from the plant will be missed this winter. Before the invasion, about 20% of Ukraine's electricity came from the Zaporizhzhia plant.
---
Monday, September 5, 2022
On September 1, a 14-member team of experts from the International Atomic Energy Agency (IAEA) began to inspect the Zaporizhzhia nuclear power plant. Attacks have continued on and near the plant, raising worries about a possible accident. Each side still blames the other for the attacks.
After visiting the plant, IAEA leader, Rafael Mariano Grossi, says he is worried about the damage to the building. So far, not many details have been released about the condition of the plant. But the IAEA says it plans to have two members of its team remain at the plant to keep an eye on things.
Last week, Ukraine launched attacks in the south in an effort to take back land that was claimed by Russian forces. Ukraine says that it has had some success, reclaiming villages and destroying some targets that were important to Russian forces.
Several areas of Ukraine are currently held by Russia. In a number of these areas, Russia had planned to hold a special vote on whether the regions should officially become part of Russia. Now, in Kherson, at least one of those votes has been "paused" because of the Ukrainian attacks.
Last Thursday was the first day of school in Ukraine. Known as the "Day of Knowledge", the first day of school is a national holiday in the country. This year, because of the war with Russia, only about 51% of schools were open for in-person classes. Most Ukrainian students are taking online classes.
---
Monday, August 29, 2022
Last Thursday, Ukraine's nuclear power operator, Energoatom, said that the Zaporizhzhia nuclear power plant had been cut off from Ukraine's national electrical system for the first time in nearly 40 years. That increases the chances of a serious nuclear accident.
To run safely, a nuclear plant must be kept cool so it doesn't overheat. Without electricity from outside, the plant must use generators that run on diesel fuel to make electricity to help cool the plant. If there's a problem with the generators, it could lead to a very dangerous situation.
Attacks have continued on the plant, raising worries about a possible accident. Each side still blames the other for the attacks. Many leaders from around the world have encouraged making the area around the plant a non-military zone. A team of experts from the International Atomic Energy Agency is now on its way to inspect the plant.
Russian President Vladimir Putin signed an order increasing the size of Russia's military to over 2 million soldiers. That's an increase of about 140,000 people. Experts say the increase isn't likely to make much difference in the Ukraine war. Russia has lost tens of thousands of soldiers in the war already.
Over one million tons of grains and foods have been shipped out of Ukraine since early August. But the United Nations says that far more needs to be shipped out. One important reason is that Ukraine is short on storage buildings for its crops. Shipping out the old grains will allow Ukraine to store the crops that are being grown now.
---
Monday, August 22, 2022
Ukraine's independence day is on Wednesday, August 24. That's the day it became independent of the Soviet Union 31 years ago. This year, the country is planning to celebrate very quietly, without any major gatherings. Instead of a military parade, Ukraine has lined its famous Khreshchatyk Street in the capital, Kyiv, with broken tanks and other weapons it has taken from the Russians.
Ukraine President Volodymyr Zelensky has warned Ukrainians to expect attacks ahead of the day. He believes Russia may make a special effort to ruin the day. "Russia may try to do something particularly nasty," he said.
Ukraine appears to still be having success in using drones and other methods to attack Russia in Crimea. Crimea is a part of Ukraine that Russia invaded and took control of in 2014. A Russian navy base in Sevastopol, Crimea has been attacked by drones twice in the last month. Ukraine hasn't said that it is responsible for the attacks, but some people in Ukraine's government have hinted that the country is now able to hit areas in Crimea with drones.
There are still many concerns over the Zaporizhzhia nuclear power plant. Russia took control of the plant in March, and it has come under attack several times recently, leaving many people very worried about the situation. Now Russian President Vladimir Putin has agreed to allow experts from the International Atomic Energy Agency to inspect the plant.
---
Monday, August 15, 2022
Last Tuesday, several explosions hit a Russian air base in Crimea. Crimea is a part of Ukraine that Russia invaded and took control of in 2014. The Saki air base was often used by Russian planes that were bombing Ukrainian forces. Officially, Ukraine did not comment on the explosions. But privately, some Ukrainian military leaders claimed that Ukraine had struck the base.
The attack seems to have badly damaged several Russian war planes. It has also made Russia nervous about an area it once considered safe. It's not clear how Ukraine could have carried out the attack, since the location is farther than its missiles will reach. That includes the long-distance missiles that Ukraine has recently gotten from Western countries.
But those long-range missiles have slowly begun to bring Ukraine more successes. It is better able to hit important targets deep behind the lines of battle, including several key bridges. These strikes have damaged Russia's ability to keep its forces well-supplied.
Attacks have continued on the Zaporizhzhia nuclear power plant, greatly increasing worries over the possibility of a nuclear accident. Ukraine says that Russia attacked the nuclear plant five times on Thursday. Ukraine President Volodymyr Zelensky says that Ukraine now plans to specially target Russian soldiers firing on the plant or using it for cover. The United Nations has suggested creating a military-free area around the plant to make sure no accidents happen because of fighting.
Two more ships carrying grain left Ukraine's ports in the Black Sea on Saturday. That makes at least 16 ships that have now left Ukraine's ports carrying grain and other food products. Ukraine says that roughly 496,000 tons of farm products have been shipped out of the country since a deal to allow shipping was reached in early August.
---
Monday, August 8, 2022
Ukraine's Zaporizhzhia nuclear power plant – the largest nuclear power plant in Europe – has been damaged by attacks. Both Ukraine and Russia blame the other side for the attacks. Russia took control of the plant in March, but it is still being run by Ukrainian workers. Ukraine says that Russian attacks damaged sensors at the plant and caused one of its reactors to be shut down. Russia claims that Ukrainian forces hit the plant with a rocket launcher.
Russia has continued to attack a wide number of areas across Ukraine's east and south. Dozens of towns were attacked on Saturday. Military experts say that Russia is still building up its forces in the south of Ukraine. Large lines of trucks and other military vehicles have been seen moving to the south from the Donbas. Ukraine is believed to be preparing for an attack on Russia in the south, but some experts believe Russia may be getting ready to attack first.
Four more ships left Ukraine's ports on Sunday, carrying around 176,000 tons of crops out of the country. The ships, which are headed to China, Iran, Italy, and Turkey, carried sunflower oil, corn, and other grains. Last week, four other ships left carrying products headed to Ireland, Lebanon, Turkey, and the United Kingdom.
---
Monday, August 1, 2022
On Monday, a ship carrying corn left the port of Odesa, Ukraine. It is the first ship carrying products to leave Ukraine in five months. That's because Russia's navy has been blocking the waters around Ukraine's ports. Blocking Ukraine's ports has caused problems with food supplies worldwide.
Now, under a deal recently signed by Russia and Ukraine, food supplies are allowed to pass through these waters. The ship that left on Monday is headed for Lebanon. Though there could still be problems, many people are hoping that this ship will be the first of many. Over 20 million tons of grain were trapped in Ukraine. Shipping the grain out should help improve food shortage issues around the world.
Last Thursday, a jail in Donetsk run by Russia was bombed. The jail was holding Ukrainian soldiers. At least 50 of the soldiers were killed and 75 were injured. Russia and Ukraine each blamed the other for the attack. Ukraine said Russia was trying to cover up the way it had been mistreating the prisoners. So far, Russia has not allowed workers from the Red Cross to visit the jail.
Both Russia and Ukraine are preparing for major fighting in southern Ukraine. Ukraine is hoping to take back land it has lost. Russia is still trying to take more land in the eastern part of the country, but it is not making much progress. In recent weeks, Ukraine has been using more of the advanced weapons it has gotten from Western countries. These weapons allow it to target Russian forces that are very far away.
---
Monday, July 25, 2022
Last Friday, Ukraine and Russia signed an agreement that should allow the shipment of over 20 million tons of grain that have been trapped in Ukraine since the beginning of the war. Russia has been blocking shipments from leaving Ukraine. The deal was reached in Turkey with the help of both Turkey and the United Nations (UN).
The deal would allow as much as 5 million tons of grain to be shipped out each month. The first shipments could begin in just a few weeks. Having so much grain stuck in Ukraine has caused problems with food supplies around the world. Allowing the grain to be shipped should help ease these shortages. It will also free up important storage areas in Ukraine for new grain crops that are being grown.
The deal is the most important agreement between the two sides since the beginning of the war. It took a lot of effort and many attempts at talks over a long period of time. "This agreement did not come easy," said UN leader António Guterres.
But on Saturday, just a day after the agreement was signed, Russia fired four missiles at the important port city of Odesa. Two missiles were shot down, but two made it through, causing several explosions. Odesa will be important in shipping grains out of Ukraine. This has made many people wonder how serious Russia is about the agreement it just made. Ukraine immediately condemned the attack.
---
Monday, July 18, 2022
Last Thursday a Russian missile attack on the city of Vinnytsia killed over 20 people and wounded at least 100. The attack on a city in the center of Ukraine – far from where most of the war is being fought – came as a shock. Ukraine President Volodymyr Zelensky described Russia's attack as "terrorism", saying that Russia "directs rockets at civilian targets where there is nothing military."
On Saturday, Russia's Defense Minister ordered Russia's military to strengthen its actions in all areas. Outside military experts say it looks like Russia is ending a short "pause" that the country used to prepare for increased attacks.
Mr. Zelensky has been making big changes in his government recently. Last week, he fired five of Ukraine's ambassadors to other countries. On Sunday, Ukraine's head of security was suspended. So was the person in charge of investigating Russia's war crimes. Mr. Zelensky said the two had not done enough to remove people in their departments who were working for Russia and against Ukraine.
---
Monday, July 11, 2022
Late Saturday night, Russia launched missile attacks on several apartment buildings in the town of Chasiv Yar in eastern Ukraine. At least 15 people were killed in one of the buildings and dozens of people remain trapped in the rubble.
Ukraine has accused Russia of targeting civilians on purpose. Russia claims it is only attacking military targets. But Russia has carried out many attacks on buildings or areas that are mainly used by civilians. These include attacks on homes, apartment buildings, and shopping centers.
Last Thursday, Russian President Vladimir Putin gave a speech in which he said that Russia had not yet really begun its attack on Ukraine. Mr. Putin claimed that Western countries' attempts to help Ukraine by giving it weapons would fail. "We are hearing that they want to defeat us on the battlefield," he said. "Let them try."
Russia is moving its soldiers around in eastern Ukraine. Military experts believe Russia is preparing for heavier attacks on cities in the Donetsk regions.
---
Monday, July 4, 2022
On Sunday, Russia claimed to have taken control of Lysychansk. Lysychansk was the last city in the Luhansk region that was under Ukrainian control. But on July 3, Ukraine ordered its soldiers to pull out of the city. Taking complete control of the Luhansk region is a big victory for Russia.
Russia is now beginning to focus on Donetsk – the other region which makes up the Donbas area. Russia already controls over half of Donetsk. As Russian attacks on the eastern region of Donetsk increase, the government is encouraging civilians to leave the area while they can. There are roughly 350,000 civilians in the region.
Ukraine has asked Turkey to investigate three Russian ships. Ukraine says the ships are carrying grain that Russia stole from it. Turkey has also stopped a ship called the Zhibek Zholy, which is flying a Russian flag. Turkey is investigating charges that the ship is carrying 7,700 tons of grain stolen from Ukraine.
---
Monday, June 27, 2022
On Friday, Ukraine ordered its soldiers to leave Severodonetsk. That leaves the key city in the hands of Russian forces. On Saturday, Russia took complete control of the city, including the Azot chemical factory, where many Ukrainian soldiers and civilians had been hiding out.
Russia is now increasing its efforts to take control of the nearby city of Lysychansk. Lysychansk is the last part of the Luhansk region that is controlled by Ukraine. Luhansk and Donetsk are two regions in eastern Ukraine known as "Donbas". Fighting over this area has gone on for years, and many people living in Donbas support Russia. Taking full control of Donbas would be a huge win for Russia.
Over the weekend, Russia launched missile attacks on targets across Ukraine. Many of the targets were far removed from the heavy fighting in eastern Ukraine. At least 14 missiles struck in or near the capital, Kyiv. It was the first missile strike on Kyiv in three weeks.
Last Thursday, Ukraine was approved as a "candidate" to join the European Union (EU). This is the first official step that could lead to Ukraine becoming a full member of the EU. The complete process is still expected to take years.
---
Monday, June 20, 2022
Russia continues to use heavy weapons and bombs to pound Severodonetsk and the nearby city of Lysychansk. Almost all of Severodonetsk is now controlled by Russia. Most of Ukraine's soldiers have been forced into an area in and near the Azot chemical factory. Around 500 civilians are also hiding out there.
Russia is getting closer to completely surrounding the city. But Russia's advances have come at a high price. It has lost many soldiers and weapons.
Western military experts are warning that the war in Ukraine could last for years. Jens Stoltenberg, the leader of NATO, said, "We must not let up in supporting Ukraine, even if the costs are high."
Kaliningrad is an area that belongs to Russia, but is completely surrounded by Poland and Lithuania. The area gets most of it supplies from Russia. These supplies usually come in by train, through Lithuania. As part of the European Union's sanctions on Russia in response to the invasion of Ukraine, Lithuania is now blocking some items, including building materials, metal, and coal, from traveling through Lithuania by rail.
Russia has complained loudly about the sanctions, which will mean that many important supplies now can only be brought into Kaliningrad by boat. A member of Russia's government says that "Russia will certainly respond to such hostile [unfriendly] actions." He suggested that Russia's response would have "serious" effects on the people of Lithuania.
At the same time, Russia continues to block roughly 20 million tons of grain from leaving Ukraine. The European Union (EU) has called Russia's blocking of Ukraine's ports a "real war crime". Josep Borrell, of the EU, said, "One cannot imagine that millions of tons of wheat remain blocked in Ukraine while in the rest of the world people are suffering hunger."
---
Thursday, June 16, 2022
On Thursday, several European leaders visited Ukraine President Volodymyr Zelensky in Kyiv to show their support for Ukraine in its battle against Russia. The leaders included French President Emmanuel Macron, German leader Olaf Scholz, and Italy's prime minister Mario Draghi. In the past, Mr. Zelensky has criticized these leaders for not supporting Ukraine strongly enough. Romanian President Klaus Iohannis also visited.
The visit was also meant to show support for Ukraine in its efforts to join the European Union (EU). The European Commission is expected to discuss the question of whether Ukraine can join the EU later this month. Having the support of important EU members like France, Germany, and Italy is likely to be very helpful. But it could still take years for Ukraine to fully join the EU.
Russia continues to slowly make progress in the key city of Severodonetsk. In its efforts to take complete control of the Donbas regions, Russia is bringing more and more soldiers to the area. Ukraine is having a hard time fighting back against these increasing numbers. Though both sides are suffering losses, Ukraine has said that as many as 200 of its soldiers are killed every day.
---
Monday, June 13, 2022
The battle for Severodonetsk still continues. Russian forces are believed to now control roughly 70% to 80% of the city. The heavy bombing has forced Ukraine's soldiers to pull back. Many of Ukraine's soldiers have been pushed back into an area of the city where there are lots of factories. At least 500 Ukrainian civilians are hiding out in a chemical factory, which is being bombed constantly.
Russia is hoping to completely surround Severodonetsk. All of the bridges into the city have now been destroyed. This will make it far harder for Ukrainian forces to get the supplies they need to keep fighting. It will also make it extremely difficult for the civilians who are left in the city to escape.
Ukraine President Volodymyr Zelensky has continued to ask for more heavy weapons – including rocket launchers and tanks – from Western countries. He says the weapons are extremely important to Ukraine's efforts in the Donbas regions. Mr. Zelensky said that the fighting in Donbas "will surely go down in military history as one of the most brutal battles in Europe."
Russia has continued to use long-range missiles to hammer Ukrainian cities, especially in eastern Ukraine. Russia claims that one of its missiles hit a weapons storage area in the Chernihiv region. Ukraine says that its air defense systems were able to shoot down two long-range missiles aimed at the port city of Odesa.
---
Thursday, June 9, 2022
The fighting in the streets of Severodonetsk is still extremely intense. Russian forces now control most of the city. But Ukraine President Volodymyr Zelensky says that Ukrainian troops are "holding on" in Severodonetsk and Lysychansk.
The two cities, separated by the Seversky Donets River, are under constant attack. They are considered the key cities in the Donbas regions. Around 10,000 civilians are believed to be trapped in Severodonetsk.
Mr. Zelensky says Ukraine still needs more long range weapons from Western countries to win the important battles. Mr. Zelensky described the Russian invasion as being like Covid-19. He said that "weapons and sanctions are…a vaccine."
One challenge facing Ukraine as it gets more Western weapons is that it takes time to train its soldiers to use the new weapons. Western countries are shipping more and more high-tech weapons to Ukraine, but the weapons aren't useful until Ukrainian forces learn how to use them. It takes time for Western forces to teach Ukrainian military trainers how to use the weapons. These trainers must then teach the Ukrainian soldiers.
---
Monday, June 6, 2022
Intense fighting is still going on in the streets of the important city of Severodonetsk in Luhansk. Ukraine President Volodymyr Zelensky says that there are many more Russian soldiers in the city, but that Ukrainian forces are still holding their positions. In some areas, Ukrainian soldiers have taken back land that had been taken over by the Russians.
Ukraine claims that its navy has pushed Russia back from its coast along the Black Sea. Russia has been cutting off Ukraine's coast for several weeks. Now Ukraine's navy says it has pushed back the warships blocking the coast by more than 62 miles (100 kilometers). Outside sources haven't confirmed this yet.
The United Kingdom (UK) says it will send long-range rocket systems to Ukraine. The new systems can precisely hit a target nearly 50 miles (80 kilometers) away. The UK's offer comes soon after the US promised to send similar weapons.
Russia is upset about Western countries giving these weapons systems to Ukraine, and has promised to try to destroy the weapons systems before they can be used. Russian President Vladimir Putin says Russia may "strike targets we haven't hit before."
On Sunday, Russia hit the Ukrainian capital Kyiv with at least five missiles. Russia hasn't targeted Kyiv in over a month.
---
Thursday, June 2, 2022
On Tuesday, the European Union (EU) announced a plan to partially ban Russian oil. The EU had been discussing a ban on Russian oil for weeks, but was stopped by countries like Hungary, Slovakia, and the Czech Republic. Those three countries have been left out of the ban for now, but the rest of the EU plans to end its use of most Russian oil in the next six to eight months. The ban is a big blow to Russia, but it will also be very hard on the EU.
Ukraine reports that more than two-thirds of the key Luhansk city of Severodonetsk is now under Russian control. Russia's heavy bombing and violent street battles have forced Ukraine's soldiers to draw back.
The intense fighting in eastern Ukraine is hitting Ukraine's forces hard. Ukraine President Volodymyr Zelensky now says that as many as 500 Ukrainian soldiers are being injured and up to 100 are being killed every day.
The US has agreed to ship medium-range missile systems to Ukraine as part of a new weapons shipment. The missiles can precisely hit a target roughly 45 miles (72 kilometers) away. That's much farther than Ukraine's weapons can currently fire. Russia has had weapons like these for a long time, and has been using them.
The US is only giving Ukraine four of these systems so far, and has told Ukraine it cannot use the weapons to hit targets in Russia. Russia is upset about the US giving these weapons systems to Ukraine and has suggested that the move could bring a "third country" into the war.
---
For more background and earlier reports on the situation in Ukraine, see these articles:
• Russia's War on Ukraine – May, 2022 Archive
• Russia's War on Ukraine – April, 2022 Archive
• Russia's War on Ukraine – March, 2022 Archive
• Companies Protest Russia's War on Ukraine
• Fighting Continues In Ukraine, Despite Peace Talks
• Russia Continues Attack on Ukraine
• Russia Invades Ukraine, World Leaders Condemn Attack
• Russia 'Recognizes' Areas of Ukraine, Sends Soldiers
• Will Russia Invade Ukraine? Talks Could Lower Tensions
• Biden & Putin Meet Over Tense Ukraine Situation
---
Note: The situation in Ukraine is very serious. If the subject brings up questions or worries for you, be sure to discuss them with an adult you trust.