Canberra, Australia —(Map)
Upset by how long it is taking adults to deal with the problems of climate change, young people around the world are fighting to force their governments to take action. This article is part of a series about young people fighting for action on climate change.
On Friday, thousands of students across Australia skipped school to take part in huge protests. They want the government to treat climate change like an emergency and stop burning oil and coal.
Like most places around the world, Australia is facing challenges from extreme weather, made worse by climate change. There have been terrible bushfires in some parts of the country, farmers in some areas have had very dry weather, while other areas have had huge floods. The Great Barrier Reef, the world's largest coral reef and home to many sea animals, is in danger from warming waters caused by climate change.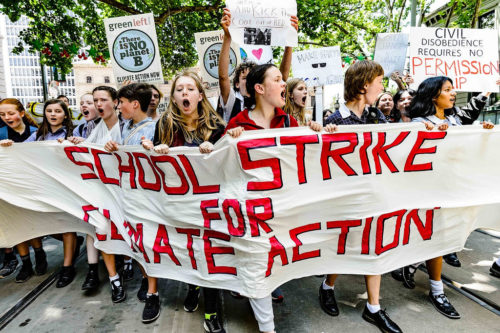 Climate Change
Climate change means the change in weather patterns around the world because of human activity. Global warming is one result of climate change. The world is getting hotter, mainly because humans are burning "fossil fuels" like coal, oil, and natural gas to make energy.
In 2015, the world's countries signed the Paris Agreement, which set goals for countries to pollute less by replacing fossil fuel energy with energy that doesn't pollute.
The current government in Australia supports the use of coal as a fuel. The prime minister, Scott Morrison, once took a piece of coal into Parliament, saying, "This is coal, don't be afraid!" One of the goals of the protests is to stop the opening of a coal mine planned by a company called Adani. The coal mine would be the biggest in Australia.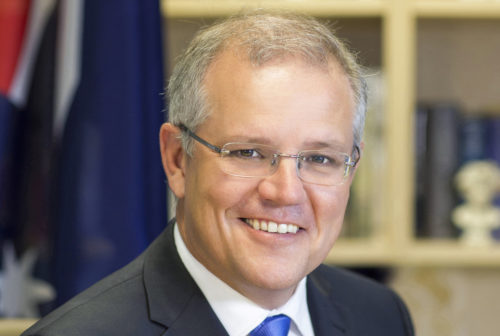 Mr. Morrison says that Australia will meet the climate change goals it agreed to in the Paris Agreement. But a United Nations report that came out last month says that it is far behind on its goals.
The protests were started by a few students in year 8 in Castlemaine, Victoria. The students knew about 15-year-old Greta Thunberg's climate protests in Sweden and liked the idea. They also noticed how US students protested for gun control earlier this year.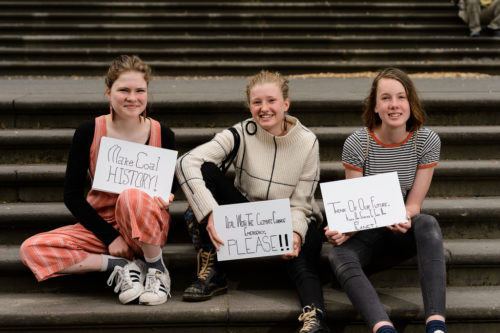 In a strike, people stop working as a protest. The students felt that by not going to school, they could make their voices heard. "We wrote letters and did different things but they never seemed to make a difference," said 14-year-old Harriet O'Shea Carre, one of the leaders of the school strike. "Really, education is our only power."
The students planned and held school strikes during November. As word spread, more student groups across Australia joined in. Last Tuesday, hundreds of students skipped school to protest outside Parliament House in Canberra. They wanted to speak with the prime minister. They didn't get their wish, but they did speak with some politicians. Later, the Senate (one part of Parliament), passed a statement supporting the students.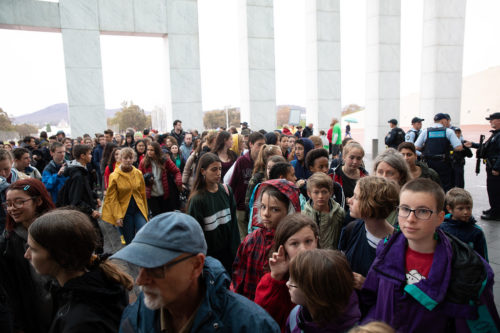 Mr. Morrison told the students they should stay in school instead of protesting. That almost seemed to encourage more students to protest.
As many as 15,000 students took part in the protests last week, which were held in every state capital and at least 20 different towns. Friday's strike was the largest protest yet. Around 8,000 people protested in Melbourne and Sydney alone.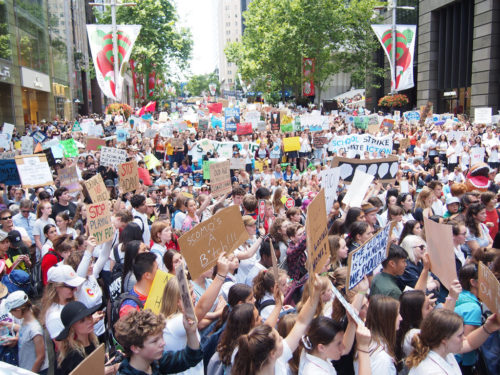 Students marched, chanted, and protested, holding signs that said things like, "There is NO planet B" and "I'll go to school if you keep the planet cool."
The students are not stopping there. They have planned "March for Our Future" protests to take place next Saturday, December 8. The protests will be focused on stopping the Adani coal mine. Protests are planned in Brisbane, Sydney, and Melbourne.
😕
This map has not been loaded because of your cookie choices. To view the content, you can accept 'Non-necessary' cookies.