Carl Nassib Is First Active NFL Player Who's Openly Gay
Carl Nassib plays defense for the Las Vegas Raiders football team. In a video on Monday, Mr. Nassib announced that he was gay. Mr. Nassib said that he had worried for over 15 years about sharing the information. He said that now, with the support of his family and friends, he feels comfortable enough to talk about it.
In the past, many people have been treated badly for being gay. Though things are much better now in many places, gay people often feel unsure about sharing the information publicly.
Many people and groups responded to Mr. Nassib's announcement on social media with messages of support. For example, the Raiders replied, "Proud of you, Carl."
Mr. Nassib isn't the first gay player in the NFL. At least 12 NFL players have said that they were gay, but they only shared the information after they retired.
Mr. Nassib said he hoped that one day people wouldn't have to make announcements about whether they were gay. He plans to work to encourage others to be more accepting.
Panda in Japanese Zoo Gives Birth to Twins
On Wednesday, a panda named Shin Shin gave birth to twin cubs at the Ueno Zoo in Tokyo, Japan. The zoo director said he gave out a "whoop" when he saw that there were two cubs. The sex of the cubs is not yet known.
Usually, when a panda has twins, she only raises one of them. To make sure that doesn't happen, the zoo's workers plan to switch the panda cubs regularly, so that Shin Shin feeds them both. When a baby panda isn't with Shin Shin, it will be kept in a special warm box called an incubator.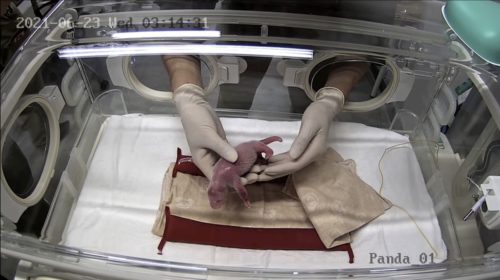 Shin Shin and the father, Ri Ri, are both 15. They are on loan to the zoo from China. They had another cub named Xiang Xiang in 2017.
Scientists believe there are only about 1,800 pandas left in the wild in China. There are about 500 pandas in zoos around the world. China often loans pandas to other countries for up to 10 years. Any cubs the pandas have while they are on loan also belong to China.
David Bowie Painting, Found for $4, Sells for $89,000
Most people know David Bowie as a rock star who remained popular from the 1960s until his death in 2016. Mr. Bowie had many hits. His music and style choices have influenced hundreds of other musicians.
But Mr. Bowie was also a painter. He created a series of paintings between 1995 and 1997 which he called "Dead Heads" or "DHeads". In spite of the name, the people posing for the pictures were still alive. They were friends of Mr. Bowie's, or sometimes Mr. Bowie himself.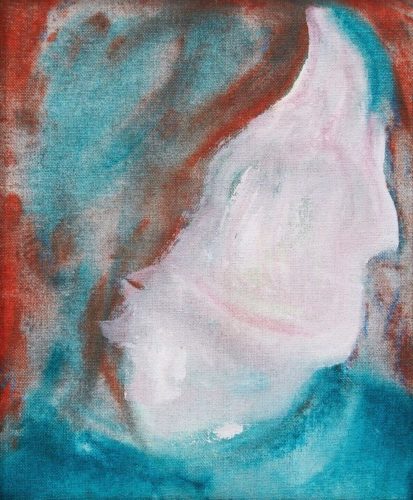 Somehow, one of Mr. Bowie's DHead paintings wound up in a second-hand shop in Ontario, Canada. A sharp-eyed shopper bought the painting for just $4.
When the painting was put up for auction at the Cowley Abbott auction house, it was expected to sell for less than $10,000. But it turned out to be much more popular than expected. The final price for the painting was over $89,000 (CAD$108,120). That's a new record for a painting by Mr. Bowie.