Burke, Virginia —(Map)
When NASA sends its new rover blasting off to Mars in July, it will carry the name "Perseverance". The name was suggested by Virginia middle-school student Alexander Mather, who won NASA's "Name the Rover" contest.
NASA has a long-term plan of sending people to Mars. But there's a lot to figure out before that can happen. For years, NASA has been sending rovers to Mars to learn more. In 2012, it landed a rover named Curiosity on Mars.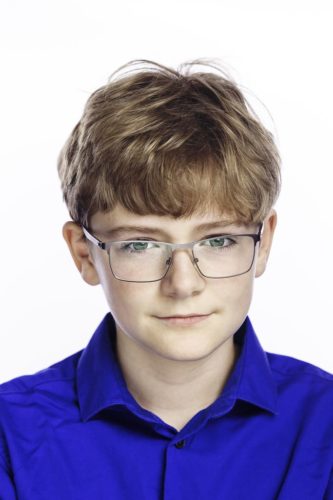 Now NASA's getting ready to send another rover to the red planet for more research.
As it has done with other rovers, NASA held a contest to name the new machine. Around 28,000 students entered the contest. Those entries were narrowed down to nine choices. After 770,000 people voted online, Alex's name, "Perseverance", was chosen.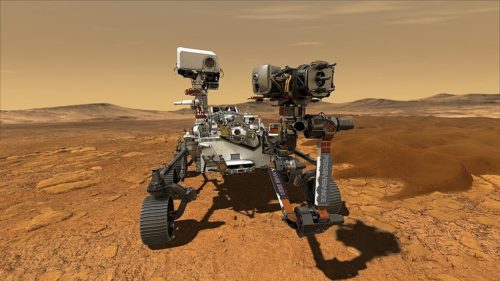 NASA's Thomas Zurbuchen congratulated Alex last Thursday at Lake Braddock Secondary School in Burke, Virginia, where the seventh-grader' goes to school.
The word "persevere" means to keep going even when things are tough. In his essay for the contest, Alex wrote, "We, …as humans, will not give up. The human race will always persevere into the future."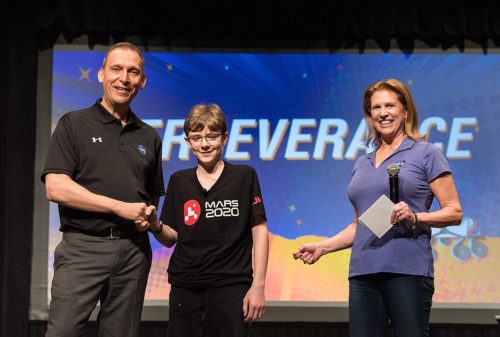 Perseverance is a pretty good name for a rover that will fly hundreds of millions of miles through space to land on a dusty, rocky, planet with no known life.
Finding out about life on Mars will actually be one of the big goals for Perseverance. The Curiosity rover has turned up information suggesting that Mars might once have supported tiny forms of life called microbes.
Perseverance will be looking for proof or any signs of earlier life. It is landing in an area which NASA believes may have once had life.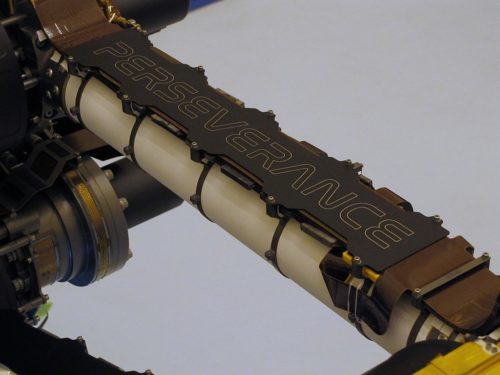 Having a reliable supply of oxygen and water will be required for any future trip to Mars that involves humans. Part of the rover's job will be trying to locate water below the surface of Mars.
The rover will also be testing a system called MOXIE (Mars Oxygen In-Situ Resource Utilization Experiment). MOXIE, which is about the size of a shoebox, is meant to pull carbon dioxide out of the Martian atmosphere and use it to create oxygen.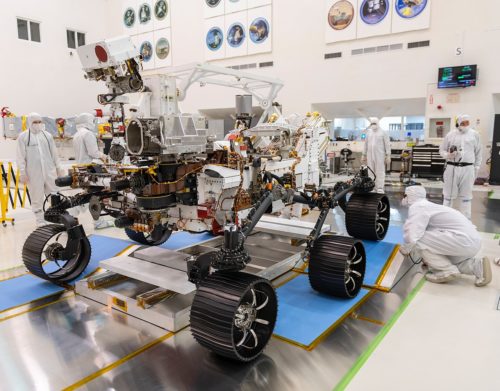 One of the main jobs of the Perseverance rover is to be a rock hunter. NASA is looking for samples of Mars rocks that are worth bringing back to Earth to study. Perseverance will travel around, checking out different kinds of rocks and dirt samples, and storing those most worth studying.
A future trip to Mars will be needed to bring the samples back.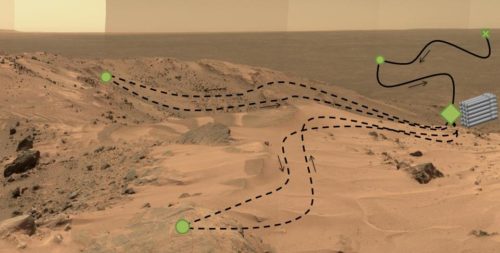 The mission to send Perseverance to Mars is expected to launch on July 17, and land on Mars on February 18, 2021. For winning the contest, Alex and his family will get to travel to NASA's Kennedy Space Center in Florida to watch the launch.
---
Did You Know…?
You can learn more about NASA's Mars 2020 program here.
😕
This map has not been loaded because of your cookie choices. To view the content, you can accept 'Non-necessary' cookies.